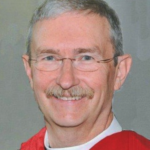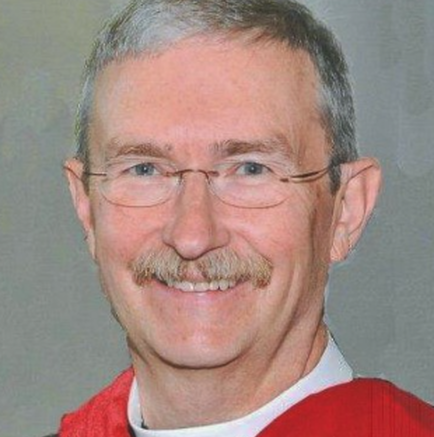 A MEDITATION   BY: The Rev. Dr. Neil O'Farrell
JESUS ALWAYS GOES BEFORE US
The Ascension is a crucial event in the story of Jesus. The evangelist Luke tells the story twice—once in his gospel and again in the Acts of the Apostles. (Both accounts are included in this bulletin.) Luke was smart enough to realize that the stories weren't the same. Chronicling different narratives reflects that there were many stories in circulation about Jesus at the time the gospels were being compiled. There was an appropriate—even touching—desire among early Christians to preserve as many of these narratives as possible. One way of conceptualizing the Ascension is that the Resurrection is the culmination of Jesus' earthy life; while the Ascension is the opening event to Jesus' exultation as the son of God and king of heaven and earth. We the faithful will experience much the same trajectory: the resurrection and new life everlasting.
The Ascension is a story of faith more than one of fact—like much of Jesus' life story. Humans can treasure disparate stories and ideas in our minds at the same time, without dissonance or the desire to tie up all the dangling ends. This disturbs many moderns who insist that everything must bow in subservience to physical science. Science and theology are two different ways to make meaning. They ask some of the fundamental questions and come up with different answers. Our heads will not explode. Much of what defines us, and we hold tenaciously as crucial to the way we move through life and the world, encompasses both a reality and a supra-reality. Or a reality described in prose and one described in something more akin to poetry—both versions equally true, equally real, and equally vital.
The Ascension invites us to think about the "what" and the "then what." Children get this innately. To think and imagine of the beyond is innately human and intimate. When we contemplate our death, we know that time and events will continue beyond us. We will be remembered among the living. As St. Paul writes, because we will experience a death like Jesus, then we will experience a continuing life like Jesus.
God gives us a choice to decide what we will stake our lives on. We plant the flag of our beliefs on the Mt. Everest called faith.
Pastor Neil
Alleluia. Christ is risen. The Lord is risen indeed. Alleluia.
OPENING COLLECT
Almighty God, we believe your only begotten Son, our Lord Jesus Christ, has ascended into heaven. Grant, we pray, that we may also in heart and mind ascend heavenward. May we with Jesus continuously dwell through time. We know that he lives and reigns with you and the Holy Spirit, one God, for ever and ever. Amen.
A READING FROM ACTS, AT 17TH CHAPTER
ALL WILL BE LIFTED UP, HAVING RECEIVED POWER FROM THE HOLY SPIRIT
In the first book, Theophilus, I wrote about all that Jesus did and taught from the beginning until the day when he was taken up to heaven, after giving instructions through the Holy Spirit to the apostles whom he had chosen. After his suffering he presented himself alive to them by many convincing proofs, appearing to them during forty days and speaking about the kingdom of God. While staying with them, he ordered them not to leave Jerusalem, but to wait there for the promise of the Father. "This," he said, "is what you have heard from me; 5for John baptized with water, but you will be baptized with the Holy Spirit not many days from now."
So when they had come together, they asked him, "Lord, is this the time when you will restore the kingdom to Israel?" He replied, "It is not for you to know the times or periods that the Father has set by his own authority. But you will receive power when the Holy Spirit has come upon you; and you will be my witnesses in Jerusalem, in all Judea and Samaria, and to the ends of the earth." When he had said this, as they were watching, he was lifted up, and a cloud took him out of their sight. While he was going and they were gazing up toward heaven, suddenly two men in white robes stood by them. They said, "All you from Galilee, why do you stand looking up toward heaven? This Jesus, who has been taken up from you into heaven, will come in the same way as you saw him go into heaven."
FROM PSALM 47
Clap your hands, all you peoples; shout to God with loud songs of joy.
For the LORD, the Most High, is awesome, a great king over all the earth.
He subdued peoples under us, and nations under our feet.
He chose our heritage for us, the pride of Jacob whom he loves.
God has gone up with a shout, the LORD with the sound of a trumpet.
Sing praises to God, sing praises; sing praises to our King, sing praises.
For God is the king of all the earth; sing praises with a psalm.
God is king over the nations; God sits on his holy throne.
The princes of the peoples gather as the people of the God of Abraham. For the shields of the earth belong to God; he is highly exalted.
A READING FROM THE GOSPEL OF LUKE, AT THE 24TH CHAPTER
JESUS WITHDRAWS FROM HIS DISCIPLES, WHO ARE FILLED WITH JOY
Then Jesus said to them, "These are my words that I spoke to you while I was still with you—that everything written about me in the law of Moses, the prophets, and the psalms must be fulfilled." Then he opened their minds to understand the scriptures, and he said to them, "Thus it is written, that the Messiah is to suffer and to rise from the dead on the third day, and that repentance and forgiveness of sins is to be proclaimed in his name to all nations, beginning from Jerusalem. You are witnesses of these things. And see, I am sending upon you what my Father promised; so, stay here in the city until you have been clothed with power from on high."
Then he led them out as far as Bethany, and, lifting up his hands, he blessed them. While he was blessing them, he withdrew from them and was carried up into heaven. And they worshiped him, and returned to Jerusalem with great joy; and they were continually in the temple blessing God.
A CONFESSION OF OUR SINS TO GOD
God of all mercy, we confess that we have sinned against you,
opposing your will in our lives. We have denied your goodness in each other, in ourselves, and in the world you have created. We repent of the evil that enslaves us, the evil we have done, and the evil done on our behalf. Forgive, restore, and strengthen us through our Savior Jesus Christ, that we may abide in your love and serve only your will. Amen.
Almighty God have mercy on us ☩, forgive us all our sins, and through the grace of Jesus Christ, strengthen us in all goodness, and by the power of the Holy Spirit keep us in eternal life. Amen.
PRAYERS OF THE PEOPLE
O God of compassion, giver of life and health, we pray your healing mercies upon all who are in any way affected by the outbreak of the Covid-19 coronavirus. Comfort and sustain those who have been stricken; relieve their pain, and restore to them your gifts of gladness and strength. Grant to all in authority the courage to make wise decisions that are essential for the common good, and strengthen them to lead institutions that care for those whom they serve. Watch over all first responders and those in the medical professions whose duty it is to care for the sick; guard them from all danger, and keep them safe in the knowledge that is through their sacrifice and service that the health of the whole community is promoted. Mercifully accept these our prayers, O God of all comfort, and our only help in time of need.
In peace, we pray to you, Lord God—
For all people in our daily life and work; for our families, friends, and neighbors, and for those who are alone and in danger.
For this community, the nation, and the world; for all who work for justice, freedom, and peace; health and wellbeing.
For the just and proper use of your creation; for the victims of hunger, fear, injustice, and oppression.
For all who are in danger, sorrow, or any kind of trouble; for those who minister to the sick, the friendless, and the needy, particularly in the midst of this worldwide pandemic.
For the peace and unity of the Church of God; for all who proclaim the Gospel, and all who seek the Truth; for all who serve God in his Church.
For the special needs and concerns of our families and friends, loved ones, and for our congregation. Hear us, Lord; for your mercy is great.
We thank you, Lord, for all the blessings of this life. We will exalt you, O God our King; And praise your Name for ever and ever.
We pray for all who have died, that they may have a place in your eternal kingdom. Lord, let your loving-kindness be upon them, who put their trust in you.
Almighty God, by your Holy Spirit you have made us one with your saints in heaven and on earth: Grant that in our earthly pilgrimage we may always be supported by this fellowship of love and prayer, and know ourselves to be surrounded by their witness to your power and mercy. We ask this for the sake of Jesus Christ, in whom all our intercessions are acceptable through the Spirit, and who lives and reigns for ever and ever. Amen.
THE LORD'S PRAYER
Our Father, who art in heaven, hallowed be thy Name, thy kingdom come, thy will be done, on earth as it is in heaven. Give us this day our daily bread. And forgive us our trespasses as we forgive those who trespass against us. And lead us not into temptation, but deliver us from evil. For thine is the kingdom, and the power, and the glory for ever and ever. Amen.
A THANKSGIVING
Loving God, we give you thanks for restoring us in your image and nourishing us with spiritual food in the Sacrament of Christ's Body and Blood. Now send us forth a people forgiven, healed, renewed; that we may proclaim your love to the world and continue in the risen life of Christ our Savior. Amen.
THE BLESSING
Sisters and brothers, when we go out into the world in peace, we live and walk as part of God's beloved community. May God help us all to be of good courage, hold on to what is good, return to no one an evil for an evil. Strengthen the faint-hearted, support the weak, aid the suffering, do justice and hope, honor all people, and let our gentleness be known by everyone. May God, who raised our Lord Jesus from death, lift us up and restore us to wholeness. And may God bless us all, ☩ in the name of the Father, the Son, and the Spirit. Amen.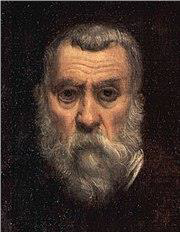 ON THE COVER OF THIS BULLETIN: Born Jacopo Robusti, known as Tintoretto, he was an Italian painter, of the sixteenth century. (Self-portrait above.) Born in Venice, where he lived his life, he was particularly known for his public art, some of it hugely monumental, adorning major buildings in the city. His contemporaries both admired and criticized his work and his oftentimes grating personality. He is known for the unprecedented boldness of his vision and exuberance. He worked mainly on commission, both public and private. It can be said that he understood well the business of being an artist. He was undoubtably self-assured to the point of arrogance. For his phenomenal energy in painting he was termed Il Furioso ("The Furious"). His work is characterized by his muscular figures, dramatic gestures, and bold use of perspective. Not all of his works are equally praised, owing no doubt to the speed with which he worked. Often in his paintings, there is too much going on, making it difficult to understand the central subject of the art. He seemed not to care about his critics. On the cover of this bulletin we see a detail of a much larger painting. (It's easy to find the full painting on the internet.) The full work spans 18 feet by 10 feet. The Web Gallery of Art describes the painting in this manner: "In this canvas, among the trembling and joyful mingling of angels' wings and of branches of olive and palm, Christ rises up with overwhelming vitality on the thick clouds of stormy cumulus, and he seems to cut through the upper edge of the painting." The painting is to be found at Scuola Grande di San Rocco—a guild hall next to a church. The building contains almost sixty of Tintoretto's paintings, and also includes works by other Renaissance artists. (Wikipedia)