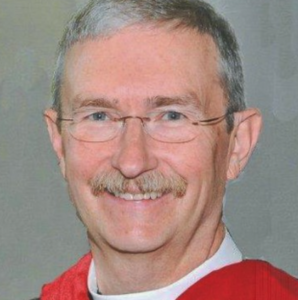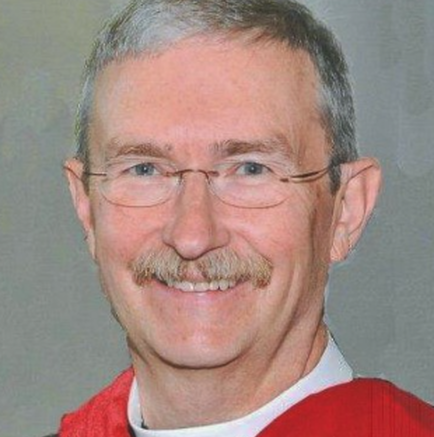 The Rev. Dr. Neil O'Farrell
A MEDITATION:
BREAK-OUT FROM THE UPPER ROOM
The biblical story of the Pentecost reveals that after Jesus' followers received the Holy Spirit in their hideaway in the Upper Room—well, they broke out from the room and poured into Jerusalem streets, a Niagara-force stream of words, stories, and blessings. Some bystanders scoffed and thought the disciples were drunk. But others paid attention and listened. The miracle is not primarily about tongues, but ears: to listen anew, to a compelling message, that would impact life and make it better, deeper. The Holy Spirit's gift was like being invited to the best party in town, for eternity.
The story about Pentecost has several small chapters, all key and sequential:
Jesus' followers were scared, and grief-stricken when Jesus left them after the Ascension. They hid in the familiar upper room, a place that was redolent with comforting memories, including the last supper and visits with Jesus after the resurrection. Where Thomas had a conversion experience.
The next part of the story is both private and personal, albeit collective. Each of the people collected in the room experienced the gifts of the Holy Spirit, represented as if tongues of fire. This part of the story is a fulfillment of Jesus' promise that when he ascended, he would ask his Father to send them a spirit to take be with his followers in their own journey to salvation.
The final episode in the story is about a public break-through. Jesus didn't want the upper room to be sealed space, or more pointedly, a mortuary for the Good News. It's not farfetched to conclude that Jesus' disciples couldn't even stay in that sequestered room after they were filled by the Holy Spirit. Their silence would have exploded them. Of course, they were understood by people from so many different countries with so many different languages. Folks milling about Jerusalem could see the kernel of the message written on the disciples' faces.
I can't tell you, as we celebrate the feast of Pentecost—the feast of the Holy Spirit—how dispiriting the last week or two have been. You share my grief. We are living through a pandemic and racial strife. We have an election coming up that is crucial. We need a new Pentecost. The fire of the spirit must work through us. We are God's "best idea." We must make ourselves listened to.
 Pastor Neil
Alleluia. Christ is risen. The Lord is risen indeed. Alleluia.
 OPENING COLLECT
 O God, on this day, you inspired the hearts of your faithful people by sending to them the light of your Holy Spirit. Grant us by the same Spirit to have a right judgment in all things. Invigorate us today and evermore to rejoice in your holy comfort. Through Jesus Christ your Son our Lord, who lives and reigns with you, in the unity of the Holy Spirit, one God, forever and ever. Amen.
A READING FROM ACTS, AT THE 2ND CHAPTER AS THE RUSH OF A VIOLENT WIND
 When the day of Pentecost had come, they were all together in one place. And suddenly from heaven, there came a sound like the rush of a violent wind, and it filled the entire house where they were sitting. Divided tongues, as of fire, appeared among them, and a tongue rested on each of them. All of them were filled with the Holy Spirit and began to speak in other languages, as the Spirit gave them ability.
Now there were devout Jews from every nation under heaven living in Jerusalem. And at this sound, the crowd gathered and was bewildered because each one heard them speaking in the native language of each. Amazed and
astonished, they asked, "Are not all these who are speaking Galileans? And how is it that we hear, each of us, in our own native language? Parthians, Medes, Elamites, and residents of Mesopotamia, Judea  and  Cappadocia,  Pontus  and Asia, Phrygia and Pamphylia, Egypt and the  parts  of  Libya  belonging  to Cyrene, and visitors from Rome, both Jews, and proselytes,  Cretans, and  Arabs—in our own languages we hear them speaking about God's deeds of power." All were amazed and perplexed, saying to one another, "What does this mean?" But others sneered and said, "They are filled with new wine."
But Peter, standing with the eleven, raised his voice and addressed them, "Men of Judea and all who live in Jerusalem, let this be known to you, and listen to what I say. Indeed, these are not drunk, as you suppose, for it is only nine o'clock in the morning. No, this is what was spoken through the prophet Joel: 'In the last days it will be, God declares, that I will pour out my Spirit upon all flesh,  and your sons and your daughters shall prophesy,  and your young shall see visions, and your elderly shall dream dreams. Even upon my slaves, both men and women, in those days I will pour out my Spirit; and they shall
prophesy. And I will show portents in the heaven above and signs on the earth below, blood, and fire, and smoky mist. The sun shall be turned to darkness and the moon to blood, before the coming of the Lord's great and glorious day. Then everyone who calls on the name of the Lord shall be saved.'"
FROM PSALM 104
 O LORD, how manifold are your works! In wisdom you have made them all; the earth is full of your creatures.
Yonder is the sea, great and wide, creeping things innumerable are there, living things both small and great.
There go the ships and Leviathan that you formed to sport in it. These all look to you to give them their food in due season;
when you give to them, they gather it up; when you open your hand, they are filled with good things.
When you hide your face, they are dismayed; when you take away their breath, they die and return to their dust.
When you send forth your spirit, they are created; and you renew the face of the ground.
May the glory of the LORD endure forever; may the LORD rejoice in his works— who looks on the earth and it trembles, who touches the mountains and they smoke.
I will sing to the LORD as long as I live; I will sing praise to my God while I have being.
May my meditation be pleasing to him, for I rejoice in the LORD. Bless the LORD, O my soul. Praise the LORD!
A READING FROM THE GOSPEL OF JOHN, AT THE 7TH CHAPTER: JESUS PROMISES RIVERS OF LIVING WATER
 On the last day of the festival, the great day, while Jesus was standing there, he cried out, "Let anyone who is thirsty come to me, and let the one who believes in me drink. As the scripture has said, 'Out of the believer's heart shall flow rivers of living water.'" Now he said this about the Spirit, which believers in him were to receive; for as yet there was no Spirit because Jesus was not yet glorified.
A CONFESSION OF OUR SINS TO GOD
God of all mercy, we confess that we have sinned against you,
opposing your will in our lives. We have denied your goodness in each other, in ourselves, and in the world, you have created. We repent of the evil that enslaves us, the evil we have done, and the evil done on our behalf. Forgive, restore, and strengthen us through our Savior Jesus Christ, that we may abide in your love and serve only your will. Amen.
Almighty God have mercy on us ☩, forgive us all our sins, and through the grace of Jesus Christ, strengthen us in all goodness, and by the power of the Holy Spirit keep us in eternal life. Amen.
 PRAYERS OF THE PEOPLE
 O God of compassion, the giver of life and health, we pray your healing mercies upon all who are in any way affected by the outbreak of the Covid-19 coronavirus. Comfort and sustain those who have been stricken; relieve their pain and restore to them your gifts of gladness and strength. Grant to all in authority the courage to make wise decisions that are essential for the common good and strengthen them to lead institutions that care for those whom they serve. Watch over all first responders and those in the medical professions whose duty it is to care for the sick; guard them from all danger and keep them safe in the knowledge that is through their sacrifice and service that the health of the whole community is promoted. Mercifully accept these our prayers, O God of all comfort, and our only help in time of need.
In peace, we pray to you, Lord God—
For all people in our daily life and work; for our families, friends, and neighbors, and for those who are alone and in danger.
For this community, the nation, and the world; for all who work for justice, freedom, and peace; health and wellbeing.
For the just and proper use of your creation; For the victims of hunger, fear, injustice, and oppression.
For all who are in danger, sorrow, or any kind of trouble; for those who minister to the sick, the friendless, and the needy, particularly in the midst of this worldwide pandemic.
For the peace and unity of the Church of God; for all who proclaim the Gospel, and all who seek the Truth; for all who serve God in his Church.
For the heartbreak in our nation and world. For the sin of racial bigotry and violence; for healing that of a plague that disproportionately ravages people of color, the poor, and the unprivileged.
For the special needs and concerns of our families and friends, loved ones, and for our congregation. Hear us, Lord; for your mercy is great.
We thank you, Lord, for all the blessings of this life. We will exalt you, O God our King; And praise your Name forever and ever.
We pray for all who have died, that they may have a place in your eternal kingdom. Lord, let your loving-kindness be upon them, who put their trust in you.
Almighty God, by your Holy Spirit you have made us one with your saints in heaven and on earth: Grant that in our earthly pilgrimage we may always be supported by this fellowship of love and prayer, and know ourselves to be surrounded by their witness to your power and mercy. We ask this for the sake of Jesus Christ, in whom all our intercessions are acceptable through the Spirit, and who lives and reigns forever and ever. Amen.
THE LORD'S PRAYER
 Our Father, who art in heaven, hallowed be thy Name, thy kingdom come, thy will be done, on earth as it is in heaven. Give us this day our daily bread. And forgive us our trespasses as we forgive those who trespass against us. And lead us not into temptation but deliver us from evil. For thine is the kingdom, and the power, and the glory forever and ever. Amen.
A THANKSGIVING
Loving God, we give you thanks for restoring us in your image and nourishing us with spiritual food in the Sacrament of Christ's Body and Blood. Now send us forth a people forgiven, healed, renewed; that we may proclaim your love to the world and continue in the risen life of Christ our Savior. Amen.
THE BLESSING
Sisters and brothers, when we go out into the world in peace, we live and walk as part of God's beloved community. May God help us all to be of good courage, hold on to what is good, return to no one evil for an evil. Strengthen the faint-hearted, support the weak, aid the suffering, do justice and hope, honor all people, and let our gentleness be known by everyone. May God, who raised our Lord Jesus from death, lift us up and restore us to wholeness. And may God bless us all, ☩ in the name of the Father, the Son, and the Spirit. Amen.
ON THE COVER OF THIS BULLETIN: The fresco of Peter preaching to the people of Jerusalem on the day of Pentecost is part of the cycle depicting the story of the life of St Peter, painted by the early Renaissance painter Masolino da Panicale, in about 1487. The chapel was originally dedicated to Peter and is a chronicle of scenes from throughout Peter's life, including scenes from scripture and tradition. This particular scene refers to Peter's sermon, as recounted in the Act of the Apostles, which he preaches in Jerusalem after the descent of the Holy Ghost earlier in the day. The fresco actually illustrates the final part of the sermon, when Peter says: "Repent and be baptized every one of you in the name of Jesus Christ for the remission of sins, and ye shall receive the gift of the Holy Ghost." This is among only a few depictions in paintings of the scene outside the upper room when Jesus' disciples went out to teach and preach to the people of Jerusalem on the feast of Pentecost. This detail of the frescos is painted on the walls of The Brancacci Chapel in Florence, central Italy. It is sometimes called the "Sistine Chapel of the early Renaissance" for its painting cycle, produced by several artists, among the most famous and influential of the period. Construction of the chapel was begun in 1422. The paintings represented a huge leap forward because the use of perspective—the technique that we take for granted of depicting the world in three dimensions. Masaccio's application of scientific perspective and skill in rendering the figures naturalistically established new standards that other artists subsequently emulated and further refined. The frescoes were neglected throughout their long, perilous life. It was not until 1981 to 1989 that a thorough restoration finally restored their clear and brilliant colors. (Wikipedia)