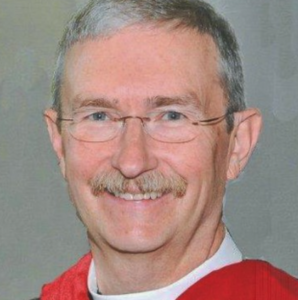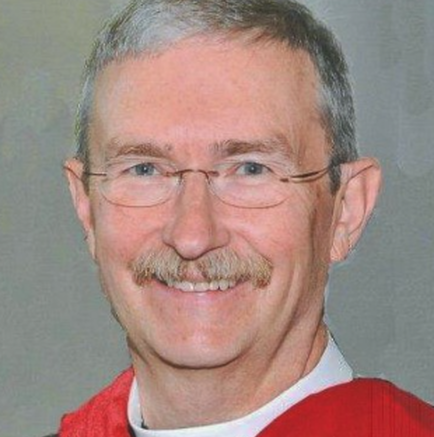 The Rev. Dr. Neil O'Farrell
A MEDITATION
GOD CHOOSES US THROUGH A SACRED COVENANT
Jesus, to the early Christians, most of whom were Jews, was the new Moses. That understanding is reflected throughout the gospels; for example, in Matthew's nativity story where the holy family went into exile in Egypt.
True, we modern Christians see Jesus as singular in his own terms. In the beginning, his Jewish followers needed to have an antecedent through which Jesus' ministry, teachings, and very existence could be grounded. That became Moses, the great emancipator. Thus, one of the strategies to understanding Jesus in context is to note the crucial points of convergence between Moses and Jesus. We do not have to dig very deep to find these resonances.
Just as Moses liberated the chosen people from bondage, Jesus liberated us from the bondage of sin. Just as Moses was the mediator that helped strike a covenant between humanity and God, Jesus was the fulfillment of that promised covenant for the new Kingdom. Moses brought salvation to the people by declaring the Israelites new nation; Jesus expanded that belonging to conceive all believers into a nation gathered in Jesus' name.
The parts that are not said are crucial for a full understanding. The chosen people wandering from Egypt to the promised land were a motley crew, of every sort and description. Many of them were worthy of God's covenant and patronage, many were not, and many just did not care. Additionally, Jesus was an astute judge of human character, but safe to say, the apostles were also a motley crew. Remember, Jesus picked Judas, too.
The comfort lesson for us is that God's covenant and Jesus' salvation were blankets. No exceptions. Everyone was worthy. Everyone was family. All had room in the tent and a place at the table. Apparently, neither God nor Jesus seemed to make exclusionary judgments.
This is a crucial lesson for us. We have no right to judge who is among the popular kids. Who gets in and who is left out. We all know both good, saintly persons, and we know reprehensible ones, too. We are not judges but members of God's Kingdom. Not to judge—that is one of the hardest things to practice. What God has not done, we should not do either.
Pastor Neil
Alleluia. Christ is risen. The Lord is risen indeed. Alleluia.
 OPENING COLLECT
 Keep, O Lord, your household the Church in your steadfast faith and love, that through your grace we may proclaim your truth with boldness, and minister your justice with compassion; for the sake of our Savior Jesus Christ, who lives and reigns with you and the Holy Spirit, one God, now and forever.
Amen.
A READING FROM EXODUS, AT THE 19TH CHAPTER:  WE ARE A PRIESTLY KINGDOM AND A HOLY NATION
They had journeyed from Rephidim, entered the wilderness of Sinai, and camped in the wilderness; Israel camped there in front of the mountain. Then Moses went up to God; the LORD called to him from the mountain, saying, "Thus you shall say to the house of Jacob, and tell the Israelites: You have seen what I did to the Egyptians, and how I bore you on eagles' wings and brought
you to myself. Now, therefore, if you obey my voice and keep my covenant, you shall be my treasured possession out of all the peoples. Indeed, the whole earth is mine, but you shall be for me a priestly kingdom and a holy nation. These are the words that you shall speak to the Israelites." So Moses came, summoned the elders of the people, and set before them all these words that the LORD had commanded him. The people all answered as one: "Everything that the LORD
has spoken we will do." Moses reported the words of the people to the LORD.
PSALM 100
 Make a joyful noise to the Lord, all the earth.
Worship the Lord with gladness; come into his presence with singing.
Know that the Lord is God. It is he that made us, and we are his; we are his people and the sheep of his pasture.
Enter his gates with thanksgiving, and his courts with praise. Give thanks to him, bless his name.
For the Lord is good; his steadfast love endures forever, and his faithfulness to all generations.
A READING FROM THE GOSPEL OF MATTHEW, AT THE 9TH CHAPTER: THE HARVEST IS PLENTIFUL, BUT THE LABORERS ARE FEW
Then Jesus went about all the cities and villages, teaching in their synagogues, and proclaiming the good news of the kingdom, and curing every disease and every sickness. When he saw the crowds, he had compassion for them, because they were harassed and helpless, like sheep without a shepherd. Then he said to his disciples, "The harvest is plentiful, but the laborers are few; therefore ask the Lord of the harvest to send out laborers into his harvest."
Then Jesus summoned his twelve disciples and gave them authority over unclean spirits, to cast them out, and to cure every disease and every sickness. These are the names of the twelve apostles: first, Simon, also known as Peter, and his brother Andrew; James son of Zebedee, and his brother John; Philip and Bartholomew; Thomas and Matthew the tax collector; James son of Alphaeus, and Thaddaeus; Simon the Cananaean, and Judas Iscariot, the one who betrayed him.
These twelve Jesus sent out with the following instructions: "Go nowhere among the Gentiles, and enter no town of the Samaritans, but go rather to the lost sheep of the house of Israel. As you go, proclaim the good news, 'The
kingdom of heaven has come near.' Cure the sick, raise the dead, cleanse the lepers, cast out demons. You received without payment; give without payment. Take no gold, or silver, or copper in your belts, no bag for your journey, or two tunics, or sandals, or a staff; for laborers deserve their food. Whatever town or village you enter, find out who in it is worthy, and stay there until you leave.
As you enter the house, greet it. If the house is worthy, let your peace come upon it; but if it is not worthy, let your peace return to you. If anyone will not welcome you or listen to your words, shake off the dust from your feet as you leave that house or town. Truly I tell you, it will be more tolerable for the land of Sodom and Gomorrah on the day of judgment than for that town.
"See, I am sending you out like sheep into the midst of wolves; so be wise as serpents and innocent as doves. Beware of them, for they will hand you over to councils and flog you in their synagogues; and you will be dragged before governors and kings because of me, as a testimony to them and the Gentiles.
When they hand you over, do not worry about how you are to speak or what you are to say; for what you are to say will be given to you at that time; for it is not you who speak, but the Spirit of your Father speaking through you. Brother
will betray brother to death, and a father his child, and children will rise against parents and have them put to death, and you will be hated by all because of my name. But the one who endures to the end will be saved. When they persecute you in one town, flee to the next; for truly I tell you, you will not have gone through all the towns of Israel before the Son of Man comes.
A CONFESSION OF OUR SINS TO GOD
 God of all mercy, we confess that we have sinned against you,
opposing your will in our lives. We have denied your goodness in each other, in ourselves, and in the world, you have created. We repent of the evil that enslaves us, the evil we have done, and the evil done on our behalf. Forgive, restore, and strengthen us through our Savior Jesus Christ, that we may abide in your love and serve only your will. Amen.
Almighty God have mercy on us ☩, forgive us all our sins, and through the grace of Jesus Christ, strengthen us in all goodness, and by the power of the Holy Spirit keep us in eternal life. Amen.
 PRAYERS OF THE PEOPLE
 O God of compassion, the giver of life and health, we pray your healing mercies upon all who are in any way affected by the outbreak of the Covid-19 coronavirus. Comfort and sustain those who have been stricken; relieve their pain, and restore to them your gifts of gladness and strength. Grant to all in authority the courage to make wise decisions that are essential for the common good, and strengthen them to lead institutions that care for those whom they serve. Watch over all first responders and those in the medical professions whose duty it is to care for the sick; guard them from all danger, and keep them safe in the knowledge that is through their sacrifice and service that the health of the whole community is promoted. Mercifully accept these our prayers, O God of all comfort, and our only help in time of need.
In peace, we pray to you, Lord God—
For all people in our daily life and work; for our families, friends, and neighbors, and for those who are alone and in danger. Hear us, Lord; for your mercy is great.
For this community, the nation, and the world; for all who work for justice, freedom, and peace; health and wellbeing; for those who bind up the wounds of racism and violence, and seek to lead us to the peaceable kingdom. Hear us, Lord; for your mercy is great.
For the just and proper use of your creation; For the victims of hunger, fear, injustice, and oppression. Hear us, Lord; for your mercy is great.
For all who are in danger, sorrow, or any kind of trouble; for those who minister to the sick, the friendless, and the needy, particularly in the midst of this worldwide pandemic. Hear us, Lord; for your mercy is great.
For the peace and unity of the Church of God; for all who proclaim the Gospel, and all who seek the Truth; for all who serve God in his Church. Hear us, Lord; for your mercy is great.
For the heartbreak in our nation and world. For the sins of bigotry and violence; for healing that of a plague that disproportionately ravages people of color, the poor, and the unprivileged. Hear us, Lord; for your mercy is great.
For the special needs and concerns of our families and friends, loved ones, and for our congregation. Hear us, Lord; for your mercy is great.
We thank you, Lord, for all the blessings of this life. We will exalt you, O God our King; And praise your Name forever and ever.
We pray for all who have died, that they may have a place in your eternal kingdom. Lord, let your loving-kindness be upon them, who put their trust in you.
Almighty God, by your Holy Spirit you have made us one with your saints in heaven and on earth: Grant that in our earthly pilgrimage we may always be supported by this fellowship of love and prayer, and know ourselves to be surrounded by their witness to your power and mercy. We ask this for the sake of Jesus Christ, in whom all our intercessions are acceptable through the Spirit, and who lives and reigns forever and ever. Amen.
THE LORD'S PRAYER
 Our Father, who art in heaven, hallowed be thy Name, thy kingdom comes, thy will be done, on earth as it is in heaven. Give us this day our daily bread. And forgive us our trespasses as we forgive those who trespass against us. And lead us not into temptation, but deliver us from evil. For thine is the kingdom, and the power, and the glory forever and ever. Amen.
A THANKSGIVING
Loving God, we give you thanks for restoring us in your image and nourishing us with spiritual food in the Sacrament of Christ's Body and Blood. Now send us forth a people forgiven, healed, renewed; that we may proclaim your love to the world and continue in the risen life of Christ our Savior. Amen.
THE BLESSING
Sisters and brothers, when we go out into the world in peace, we live and walk as part of God's beloved community. May God help us all to be of good courage, hold on to what is good, return to no one evil for evil. Strengthen the faint-hearted, support the weak, aid the suffering, do justice and hope, honor all people, and let our gentleness be known by everyone. May God, who raised our Lord Jesus from death, lift us up and restore us to wholeness. And may God bless us all, ☩ in the name of the Father, the Son, and the Spirit. Amen.
ON THE COVER OF THIS BULLETIN: Right in the heart of Monti, one of Rome's most beautiful neighborhoods, is a little- known church that few tourists bother to visit. This is unfortunate since the Chiesa di San Pietro in Vincoli houses one of Michelangelo's great masterpieces, a prime example of the artist's incomparable skills as a sculptor: the statue of Moses. The colossal marble statue, measuring over seven feet tall (in which Moses is sitting!), was to be part of the funerary monument that pope Julius II commissioned to Michelangelo in 1505. The tomb was not completed until 1545, 32 years after the death of the pope— who, in fact, rests in St. Peter's Basilica. The initial design by Michelangelo was massive, featuring more than 40 statues. It was conceived as an outdoor monumental extravaganza. Moses would have been placed on a tier almost 4 meters high. What ended up being built was much more modest (if one can suggest that about anything created by Michelangelo), and built as a wall-tomb within a church. Inspired by works by Raphael and Donatello, the statue depicts a seated Moses, holding the Tablets of the Law under his right arm; "and with the other holds his long glossy beard, the hairs, so difficult to render in sculpture, being so soft and downy that it seems as if the iron chisel must have become a brush," describes Giorgio Vasari in his "Life of Michelangelo". Moses is depicted at the moment following the delivery of the commandments on Mount Sinai when he finds the Israelites intent on worshiping a golden calf. He looks irate and about to get up. His anger is well rendered by the swollen veins and tense muscles that seem to bring life to the marble. The two horns on Moses' head are thought to be due to an incorrect translation of a passage from the Book of Exodus, where Moses is described as having two rays on his forehead, as he came down from Mount Sinai, after speaking with God. The Jewish "Keren"—"shining" or "emitting rays"—may have been confused with "Keren" — "horns" in the Latin Vulgate translation. Because of disagreements between Michelangelo and the Pope, who had become so absorbed with the reconstruction of St. Peter's Basilica that he had set aside his plans for the funerary monument, the work, which was originally destined to St. Peter's Basilica, was placed in San Pietro in Vincoli. Art critics maintain that Moses is one of Michelangelo's most beloved works. According to legend, when he completed the statue, pleased with the realism achieved, Michelangelo hit it and ordered it to speak. Italy magazine, February 26, 2016