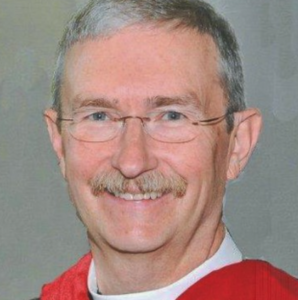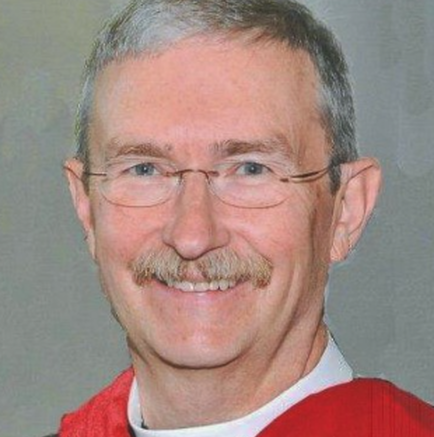 The Rev. Dr. Neil O'Farrell
A MEDITATION
 Today's gospel contains an observation by Jesus of God's compassionate love: "Come to me, all you that are weary and are carrying heavy burdens, and I will give you rest. Take my yoke upon you and learn from me; for I am gentle and humble in heart, and you will find rest for your souls. For my yoke is easy, and my burden is light." This is something I quote repeatedly as I am offering pastoral care, usually when the situation seems anything but a light burden.
The foundation for this wisdom is that of faith. Strong, unflinching, bedrock faith. Note that in preaching this teaching, Jesus doesn't blame God for the bad things that happen to us. Nowhere does it say that God always has a plan, and even the worst that befalls us is a product of God's purpose. Indeed, our compassionate God knows that life is hard and unyielding. Scripture teaches over and over that much in life is based on chance. The Bible observes that the gentle, nourishing rain falls on both the good and the evil alike.
No, God is not throwing the dice. Rather—and this is crucial—no matter how the existential game plays out, God has a series of promises for us, helpful in the best of times, but essential in the worst of times. Rest for your souls. I often think of the phrase, "Thus far by faith." While this teaching has biblical resonance, there doesn't seem to be a single source for the quote. Rather, the observation seems to spring from the African American experience, and it reminds me of the pithy saying, "If this isn't in the Bible, well, it should be!"
In the story of the successful search for a wife for Isaac, the servant sets out, propelled by the faith that the perfect woman for Isaac will materialize. And Rachel does. And importantly, Isaac and Rachel fall in love. A desire for love is the palpable, binding energy in the cosmos. Love animates both God and humanity. "For God so loved the world, …" we read in John's gospel. "God is love" is a quote from the epistles. God created humanity in love and bids us fall in love with each other. God redeemed a struggling, often despairing humanity through Jesus, whose birth, ministry, miracles, death, and resurrection are all redolent in love. The essence of the spirit of God is love.
If someone we love is suffering, we want to ameliorate that pain. Love is the power that births the shelter that God provides us, making our burdens light.
Pastor Neil
Alleluia. Christ is risen. The Lord is risen indeed. Alleluia.
OPENING COLLECT
 O God, you have taught us to keep all your commandments by loving you and our neighbor. Grant us the grace of your Holy Spirit, that we may be devoted to you with our whole heart. Unite us to see one another with pure affection.
Through Jesus Christ our Lord, who lives and reigns with you and the Holy Spirit, one God, forever and ever.
A READING FROM GENESIS, AT THE 24TH CHAPTER
ISAAC FALLS IN LOVE—AND IT IS RETURNED BY REBEKAH
 [So, an appropriate wife for Isaac was being sought, and as oftentimes happened, an intermediary is chosen to find an appropriate bride.] "I am Abraham's servant. The LORD has greatly blessed my master, and he has become wealthy; he has given him flocks and herds, silver and gold, male and female slaves, camels, and donkeys. And Sarah my master's wife bore a son, [Isaac] to my master when she was old; and he has given him all that he has. My master made me, [as the go between] swear, saying, 'You shall not take a wife for my son from the daughters of the Canaanites, in whose land I live; but you shall go to my father's house, to my kindred, and get a wife for my son.'"
"I came today to the spring, and said, 'O LORD, the God of my master Abraham, if now you will only make successful the way I am going! I am standing here by the spring of water; let the young woman who comes out to draw, to whom I shall say, "Please give me a little water from your jar to drink," and who will say to me, "Drink, and I will draw for your camels also"
—let her be the woman whom the LORD has appointed for my master's son.' "Before I had finished speaking in my heart, there was Rebekah coming out with her water jar on her shoulder; and she went down to the spring, and drew.
I said to her, 'Please let me drink.' She quickly let down her jar from her shoulder, and said, 'Drink, and I will also water your camels.' So, I drank, and she also watered the camels."
And they called Rebekah, and said to her, "Will you go with this man?" She
said, "I will." So, they sent away from their sister Rebekah and her nurse along with Abraham's servant and his men. And they blessed Rebekah and said to her, "May you, our sister, become thousands of myriads; may your offspring gain possession of the gates of their foes." Then Rebekah and her maids rose up,
mounted the camels, and followed the man; thus, the servant took Rebekah and went his way.
Now Isaac had come from Beer-lahai-roi and was settled in the Negeb. Isaac went out in the evening to walk in the field; and looking up, he saw camels coming. And Rebekah looked up, and when she saw Isaac, she slipped quickly from the camel, and said to the servant, "Who is the man over there, walking in the field to meet us?" The servant said, "It is my master." So, she took her veil and covered herself. And the servant told Isaac all the things that he had done. Then Isaac brought her into his mother Sarah's [old, unused] tent. He took Rebekah, and she became his wife, and he loved her. So, Isaac was comforted after his mother's death.
FROM SONG OF SONGS, AT THE SECOND CHAPTER
The voice of my beloved! Look, he comes, leaping upon the mountains, bounding over the hills. My beloved is like a gazelle or a young stag. Look, there he stands behind our wall, gazing in at the windows, looking through the lattice. My beloved speaks and says to me: "Arise, my love, my fair one, and come away; for now the winter is past, the rain is over and gone. The flowers appear on the earth; the time of singing has come, and the voice of the turtledove is heard in our land. The fig tree puts forth its figs, and the vines are in blossom; they give forth fragrance. Arise, my love, my fair one, and come away."
A READING FROM THE GOSPEL OF MATTHEW, AT THE 11TH CHAPTER
THE HARVEST IS PLENTIFUL, BUT THE LABORERS ARE FEW
Jesus said, "But to what will I compare this generation? It is like children sitting in the marketplaces and calling to one another, 'We played the flute for you, and you did not dance; we wailed, and you did not mourn.' For John came neither eating nor drinking, and they say, 'He has a demon'; the Son of Man
came eating and drinking, and they say, 'Look, a glutton and a drunkard, a friend of tax collectors and sinners!' Yet wisdom is vindicated by her deeds."
At that time Jesus said, "I thank you, Father, Lord of heaven and earth, because you have hidden these things from the wise and the intelligent and have revealed them to infants; yes, Father, for such was your gracious will. All things have been handed over to me by my Father, and no one knows the Son except the Father, and no one knows the Father except the Son and anyone to whom
the Son chooses to reveal him. Come to me, all you that are weary and are carrying heavy burdens, and I will give you rest. Take my yoke upon you, and learn from me; for I am gentle and humble in heart, and you will find rest for your souls. For my yoke is easy, and my burden is light."
A CONFESSION OF OUR SINS TO GOD
 God of all mercy, we confess that we have sinned against you,
opposing your will in our lives. We have denied your goodness in each other, in ourselves, and in the world, you have created. We repent of the evil that enslaves us, the evil we have done, and the evil done on our behalf. Forgive, restore, and strengthen us through our Savior Jesus Christ, that we may abide in your love and serve only your will. Amen.
Almighty God have mercy on us ☩, forgive us all our sins, and through the grace of Jesus Christ, strengthen us in all goodness, and by the power of the Holy Spirit keep us in eternal life. Amen.
PRAYERS OF THE PEOPLE
 O God of compassion, giver of life and health, we pray your healing mercies upon all who are in any way affected by the outbreak of the Covid-19 coronavirus. Comfort and sustain those who have been stricken; relieve their pain, and restore to them your gifts of gladness and strength. Grant to all in authority the courage to make wise decisions that are essential for the common good, and strengthen them to lead institutions that care for those whom they serve. Watch over all first responders and those in the medical professions whose duty it is to care for the sick; guard them from all danger, and keep them safe in the knowledge that is through their sacrifice and service that the health of the whole community is promoted. Mercifully accept these our prayers, O God of all comfort, and our only help in time of need.
In peace, we pray to you, Lord God—
For all people in our daily life and work; for our families, friends, and neighbors, and for those who are alone and in danger. Hear us, Lord; for your mercy is great.
For this community, the nation, and the world; for all who work for justice, freedom, and peace; health and wellbeing; for those who bind up the wounds of racism and violence and seek to lead us to the peaceable kingdom. Hear us, Lord; for your mercy is great.
For the just and proper use of your creation; for the victims of hunger, fear, injustice, and oppression. Hear us, Lord; for your mercy is great.
For all who are in danger, sorrow, or any kind of trouble; for those who minister to the sick, the friendless, and the needy, particularly in the midst of this worldwide pandemic. Hear us, Lord; for your mercy is great.
For the peace and unity of the Church of God; for all who proclaim the Gospel, and all who seek the Truth; for all who serve God in his Church. Hear us, Lord; for your mercy is great.
For the heartbreak in our nation and world. For the sins of bigotry and violence; for healing that of a plague that disproportionately ravages people of color, the poor, and the unprivileged. Hear us, Lord; for your mercy is great.
For the special needs and concerns of our families and friends, loved ones, and for our congregation. Hear us, Lord; for your mercy is great.
We thank you, Lord, for all the blessings of this life. We will exalt you, O God our King; And praise your Name forever and ever.
We pray for all who have died, that they may have a place in your eternal kingdom. Lord, let your loving-kindness be upon them, who put their trust in you.
Almighty God, by your Holy Spirit you have made us one with your saints in heaven and on earth: Grant that in our earthly pilgrimage we may always be supported by this fellowship of love and prayer, and know ourselves to be surrounded by their witness to your power and mercy. We ask this for the sake of Jesus Christ, in whom all our intercessions are acceptable through the Spirit, and who lives and reigns forever and ever. Amen.
THE LORD'S PRAYER
 Our Father, who art in heaven, hallowed be thy Name, thy kingdom come, thy will be done, on earth as it is in heaven. Give us this day our daily bread. And forgive us our trespasses as we forgive those who trespass against us. And lead us not into temptation, but deliver us from evil. For thine is the kingdom, and the power, and the glory for ever and ever. Amen.
A THANKSGIVING
Loving God, we give you thanks for restoring us in your image and nourishing us with spiritual food in the Sacrament of Christ's Body and Blood. Now send us forth a people forgiven, healed, renewed; that we may proclaim your love to the world and continue in the risen life of Christ our Savior. Amen.
THE BLESSING
Sisters and brothers, when we go out into the world in peace, we live and walk as part of God's beloved community. May God help us all to be of good courage, hold on to what is good, return to no one evil for evil. Strengthen the faint-hearted, support the weak, aid the suffering, do justice and hope, honor all people, and let our gentleness be known by everyone. May God, who raised our Lord Jesus from death, lift us up and restore us to wholeness. And may God bless us all, ☩ in the name of the Father, the Son, and the Spirit. Amen.