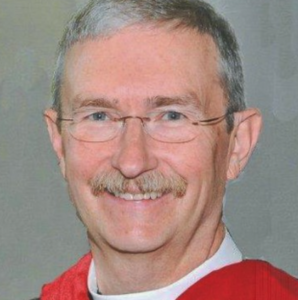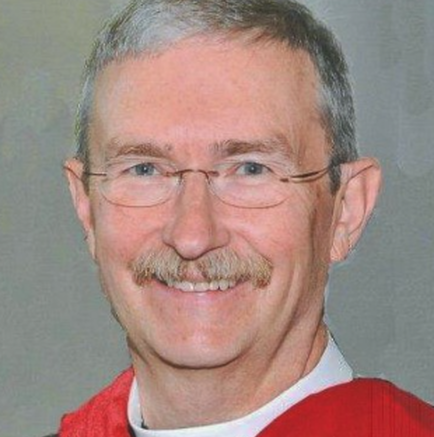 The Rev. Dr. Neil O'Farrell
A MEDITATION
"For my yoke is easy, and my burden is light."
 We can attest to the fact that Jesus taught in parables. His parables were so compelling that when the gospel evangelists chronicled his life, his parables were a beacon in words. Parables teach gospel truth in images taken from real life.
The backbone of life in ancient Israel was farming. Farming was valorized as being the noblest way to make a living. Tilling the soil and its hardships came as God's commission as he sent forth Adam and Eve from Paradise. Agrarian imagery is used in all three of today's readings. In ancient Jewish theology, the land is so important because it was the source of food and honest labor. Hebrew scriptures note that the most valuable form of payment was in crops. No wonder that Jesus would use farming imagery in preaching and teaching.
When many of us tell the stories of our lives, particularly if we go back a generation or so, we position our roots literally on the land. I certainly do. If I am passionate about growing a garden, it is because working with the soil is my chief, most valuable inheritance from my people, my ancestors. When I tell my stories, I too speak in parables that aver to farming. The labor of farming can be picked up fairly easily; the art of farming takes a lifetime of reading the soil, perfecting the nature of sowing and harvesting, and both rejoicing and bemoaning the weather.
When Jesus used farming imagery, his listeners were immediate to him.
In today's world, many of us have jobs that are virtually impossible to explain.  Just to take one example, what is a "content creator and administrator." What does that have to do with anything—palpable, worthy, and productive? The poet Nancy Kraayenhof writes an elegy for her father, "For this one farmer the worries are over, lie down and rest your head. Your time has been and struggles enough, put the tractor in the shed. A faith few possess led your journey through life, often a jagged and stony way. The sun is setting, the cattle are all bedded, and here now is the end of your day. Your love of God's soil has passed on to your kin; the stories flow like fine wine. Wash off your work boots in the puddle left by blessed rain one final time. You always believed that the good Lord would provide, and He always had somehow. Your labor is done, your home now is heaven; no more must you wait. Your legacy lives on, your love of the land, and we will close the gate."
Jesus would know precisely what this poet was describing. Even for those who don't know to farm, it's a Christian pilgrimage to learn its richness and bounty.
Pastor Neil
Alleluia. Christ is risen. The Lord is risen indeed. Alleluia.
 OPENING COLLECT
 O Lord, mercifully receive the prayers of your people who call upon you. Grant also that we may have grace and power faithfully to accomplish your tasks for us. Through Jesus Christ our Lord, who lives and reigns with you and the Holy Spirit, one God, now and forever. Amen.
A READING FROM ISAIAH 55TH CHAPTER
LISTEN TO ME, SO THAT YOU MAY LIVE
Ho, everyone who thirsts, come to the waters; and you that have no money, come, buy and eat! Come, buy wine and milk without money and without price. Why do you spend your money for that which is not bread, and your labor for that which does not satisfy? Listen carefully to me, and eat what is good, and delight yourselves in rich food. Incline your ear, and come to me; listen, so that you may live. I will make with you an everlasting covenant, my steadfast, sure love for David. See, I made him a witness to the peoples, a leader, and commander for the peoples. See, you shall call nations that you do not know, and nations that do not know you shall run to you, because of the LORD your God, the Holy One of Israel, for he has glorified you.
Seek the LORD while he may be found, call upon him while he is near; let the wicked forsake their way, and the unrighteous their thoughts; let them return to the LORD, that he may have mercy on them, and to our God, for he will abundantly pardon. For my thoughts are not your thoughts, nor are your ways my ways, says the LORD. For as the heavens are higher than the earth, so are my ways higher than your ways and my thoughts than your thoughts. For as the rain and the snow come down from heaven, and do not return there until they have watered the earth, making it bring forth and sprout, giving seed to the sower and bread to the eater, so shall my word be that goes out from my mouth; it shall not return to me empty, but it shall accomplish that which I purpose, and succeed in the thing for which I sent it. For you shall go out in joy, and be led back in peace; the mountains and the hills before you shall burst into song, and all the trees of the field shall clap their hands. Instead of the thorn shall come up the cypress; instead of the brier shall come up the myrtle; and it shall be to the LORD for a memorial, for an everlasting sign that shall not be cut off.
FROM PSALM 65
Praise is due to you, O God, in Zion; and to you shall vows be performed, O you who answer prayer! To you, all flesh shall come.
When deeds of iniquity overwhelm us, you forgive our transgressions.
Happy are those whom you choose and bring near to live in your courts. We shall be satisfied with the goodness of your house, your holy temple.
By awesome deeds you answer us with deliverance, O God of our salvation; you are the hope of all the ends of the earth and of the farthest seas.
By your strength you established the mountains; you are girded with might.
You silence the roaring of the seas, the roaring of their waves, the tumult of the peoples.
Those who live at earth's farthest bounds are awed by your signs; you make the gateways of the morning and the evening shout for joy.
You visit the earth and water it, you greatly enrich it; the river of God is full of water; you provide the people with grain, for so you have prepared it.
You water its furrows abundantly, settling its ridges, softening it with showers, and blessing its growth.
You crown the year with your bounty; your wagon tracks overflow with richness.
The pastures of the wilderness overflow, the hills gird themselves with joy, the meadows clothe themselves with flocks, the valleys deck themselves with grain, they shout and sing together for joy.
A READING FROM THE GOSPEL OF MATTHEW, AT THE 13TH CHAPTER
JESUS TEACHES "LET ANYONE WITH EARS LISTEN!"
That same day Jesus went out of the house and sat beside the sea. Such great crowds gathered around him that he got into a boat and sat there, while the whole crowd stood on the beach. And he told them many things in parables, saying: "Listen! A sower went out to sow. And as he sowed, some seeds fell on the path, and the birds came and ate them up. Other seeds fell on rocky ground, where they did not have much soil, and they sprang up quickly since they had no depth of soil. But when the sun rose, they were scorched; and since they had no root, they withered away. Other seeds fell among thorns, and the thorns grew up and choked them. Other seeds fell on good soil and brought forth grain, some a hundredfold, some sixty, some thirty. Let anyone with ears listen!"
"Hear then the parable of the sower. When anyone hears the word of the kingdom and does not understand it, the evil one comes and snatches away what is sown in the heart; this is what was sown on the path. As for what was sown on rocky ground, this is the one who hears the word and immediately receives it with joy; yet such a person has no root but endures only for a while, and when trouble or persecution arises on account of the word, that person immediately falls away. As for what was sown among thorns, this is the one who hears the word, but the cares of the world and the lure of wealth choke the word, and it yields nothing. But as for what was sown on good soil, this is the one who hears the word and understands it, who indeed bears fruit and yields, in one case a hundredfold, in another sixty, and in another thirty."
A CONFESSION OF OUR SINS TO GOD
 God of all mercy, we confess that we have sinned against you,
opposing your will in our lives. We have denied your goodness in each other, in ourselves, and in the world, you have created. We repent of the evil that enslaves us, the evil we have done, and the evil done on our behalf. Forgive, restore, and strengthen us through our Savior Jesus Christ, that we may abide in your love and serve only your will. Amen.
Almighty God have mercy on us ☩, forgive us all our sins, and through the grace of Jesus Christ, strengthen us in all goodness, and by the power of the Holy Spirit keep us in eternal life. Amen.
PRAYERS OF THE PEOPLE
 O God of compassion, giver of life and health, we pray your healing mercies upon all who are in any way affected by the outbreak of the Covid-19 coronavirus. Comfort and sustain those who have been stricken; relieve their pain, and restore to them your gifts of gladness and strength. Grant to all in authority the courage to make wise decisions that are essential for the common good, and strengthen them to lead institutions that care for those whom they serve. Watch over all first responders and those in the medical professions whose duty it is to care for the sick; guard them from all danger, and keep them safe in the knowledge that is through their sacrifice and service that the health of the whole community is promoted. Mercifully accept these our prayers, O God of all comfort, and our only help in time of need.
In peace, we pray to you, Lord God—
For all people in our daily life and work; for our families, friends, and neighbors, and for those who are alone and in danger. Hear us, Lord; for your mercy is great.
For this community, the nation, and the world; for all who work for justice, freedom, and peace; health and wellbeing; for those who bind up the wounds of racism and violence, and seek to lead us to the peaceable kingdom. Hear us, Lord; for your mercy is great.
For the just and proper use of your creation; For the victims of hunger, fear, injustice, and oppression. Hear us, Lord; for your mercy is great.
For all who are in danger, sorrow, or any kind of trouble; for those who minister to the sick, the friendless, and the needy, particularly in the midst of this worldwide pandemic. Hear us, Lord; for your mercy is great.
For the peace and unity of the Church of God; for all who proclaim the Gospel, and all who seek the Truth; for all who serve God in his Church. Hear us, Lord; for your mercy is great.
For the heartbreak in our nation and world. For the sins of bigotry and violence; for healing that of a plague that disproportionately ravages people of color, the poor, and the unprivileged. Hear us, Lord; for your mercy is great.
For the special needs and concerns of our families and friends, loved ones, and for our congregation. Hear us, Lord; for your mercy is great.
We thank you, Lord, for all the blessings of this life. We will exalt you, O God our King; And praise your Name forever and ever.
We pray for all who have died, that they may have a place in your eternal kingdom. Lord, let your loving-kindness be upon them, who put their trust in you.
Almighty God, by your Holy Spirit you have made us one with your saints in heaven and on earth: Grant that in our earthly pilgrimage we may always be
supported by this fellowship of love and prayer, and know ourselves to be surrounded by their witness to your power and mercy. We ask this for the sake of Jesus Christ, in whom all our intercessions are acceptable through the Spirit, and who lives and reigns forever and ever. Amen.
THE LORD'S PRAYER
Our Father, who art in heaven, hallowed be thy Name, thy kingdom come, thy will be done, on earth as it is in heaven. Give us this day our daily bread. And forgive us our trespasses as we forgive those who trespass against us. And lead us not into temptation, but deliver us from evil. For thine is the kingdom, and the power, and the glory forever and ever. Amen.
A THANKSGIVING
Loving God, we give you thanks for restoring us in your image and nourishing us with spiritual food in the Sacrament of Christ's Body and Blood. Now send us forth a people forgiven, healed, renewed; that we may proclaim your love to the world and continue in the risen life of Christ our Savior. Amen.
THE BLESSING
Sisters and brothers, when we go out into the world in peace, we live and walk as part of God's beloved community. May God help us all to be of good courage, hold on to what is good, return to no one evil for evil. Strengthen the faint-hearted, support the weak, aid the suffering, do justice and hope, honor all people, and let our gentleness be known by everyone. May God, who raised our Lord Jesus from death, lift us up and restore us to wholeness. And may God bless us all, ☩ in the name of the Father, the Son, and the Spirit. Amen.