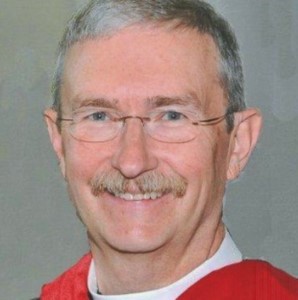 The Rev. Dr. Neil O'Farrell
A MEDITATION
 Jesus in today's gospel from Matthew does what we all do: That is, we read scripture and mine its deeper, personal, spiritual meaning. Jesus teaches his followers that the last word is not scripture's often opaque text, but rather the word is to be found in how scripture lodges in our hearts. The Bible teaches us all that we need to know who God and Jesus are, and how we should live our lives if we're serious about walking a righteous path.
Whenever I encounter this passage, I can't help but lament all those times that I thought I could pull a weed that is too close to a flower. I end up dragging both plants out of the ground because the roots are so intertwined. I've learned that keeping a garden too tidy can be a detriment to your harvest, no matter what you're trying to grow. Jesus knew that. Thus, this parable of good seed and bad seed is also a parable about the value of patience, discernment, and strategy.
Nature is such that oftentimes, things have a way of sorting themselves out. I have beloved flowers in my garden that I thought were weeds—seeds blown in from somewhere else. Once I learn more about a vagabond plant, perhaps I won't see it as a weed, but something lovelier and deserving of a prominent place in my little corner of God's green earth.
This is something that Jacob's dream of a "ladder" between heaven and earth comprises. Jacob encountered both the boundary and the porosity of our space and God's space. As we know, dreams come unbidden deep from our unconscious.
Mostly dreams are unmitigated fluff, which the mind erases so quickly the next day. Sometimes though, like Jacob's dream, they can teach a valuable truth. Jacob saw the path from earth to heaven, and less obviously, he saw that the ladder could be used to go both up and down. We've all experienced an insight that came to us "from out of the blue"; a delightful memory that we'd forgotten until we realize that dream or random thought is a godsend, or an impossible prayer answered.
We're banking on arising with such a ladder, but we have a richer life when we keep in mind that the road to heaven runs in both directions.
I think both Jesus and Jacob teach us that living faithfully is to live in a world of possibilities. A fitful night's sleep, the springing up of a weed, other things that come into our lives unbeckoned—almost anything at any time can be rich with a gift and a blessing. There are disappointments that crush life and soul, and we must admit that. Truly though, God can redeem even the most wretched of events. Living faithfully is rich beyond measure. Living faithlessly is impoverishment.
Jesus taught that discerning the difference is the result of patience. Live in wealth.
Pastor Neil
Alleluia. Christ is risen. The Lord is risen indeed. Alleluia.
OPENING COLLECT
 Almighty God, the fountain of all wisdom, you know our necessities before we ask. Have compassion on our weakness. Provide us with all those things we need to live a good life in your son's name. Through that self-same Son Jesus Christ, who is our Lord, and who lives and reigns with you and the Holy Spirit, one God, now and forever. Amen.
A READING FROM GENESIS, AT THE 28TH CHAPTER
JACOB'S DREAM OF ASCENT INTO GOD'S HEAVEN
Jacob left Beer-sheba and went toward Haran. He came to a certain place and stayed there for the night because the sun had set. Taking one of the stones of the place, he put it under his head and lay down in that place. And he dreamed that there was a ladder set up on the earth, the top of it reaching to heaven; and the angels of God were ascending and descending on it. And the LORD stood beside him and said, "I am the LORD, the God of Abraham your father and the God of Isaac; the land on which you lie I will give to you and to your offspring, and your offspring shall be like the dust of the earth, and you shall spread abroad to the west and to the east and to the north and to the south, and all the families of the earth shall be blessed in you and in your offspring. Know that I am with you and will keep you wherever you go and will bring you back to this land; for I will not leave you until I have done what I have promised you."
Then Jacob woke from his sleep and said, "Surely the LORD is in this place— and I did not know it!" And he was afraid, and said, "How awesome is this place! This is none other than the house of God, and this is the gate of heaven." So Jacob rose early in the morning, and he took the stone that he had put under his head and set it up for a pillar and poured oil on the top of it. He called that place Bethel.
FROM PSALM 86
Incline your ear, O LORD, and answer me, for I am poor and needy.
Preserve my life, for I am devoted to you; save your servant who trusts in you.
You are my God;
be gracious to me, O Lord, for to you do I cry all day long.
Gladden the soul of your servant, for to you, O Lord, I lift up my soul.
For you, O Lord, are good and forgiving, abounding in steadfast love to all who call on you.
Give ear, O LORD, to my prayer; listen to my cry of supplication. In the day of my trouble, I call on you, for you will answer me.
There is none like you among the gods, O Lord, nor are there any works like yours.
All the nations you have made shall come and bow down before you, O Lord, and shall glorify your name.
For you are great and do wondrous things; you alone are God.
Teach me your way, O LORD, that I may walk in your truth; give me an undivided heart to revere your name.
I give thanks to you, O Lord my God, with my whole heart, and I will glorify your name forever.
For great is your steadfast love toward me; you have delivered my soul from the depths of Sheol.
O God, the insolent rise up against me; a band of ruffians seeks my life, and they do not set you before them.
But you, O Lord, are a God merciful and gracious, slow to anger and abounding in steadfast love and faithfulness.
Turn to me and be gracious to me; give your strength to your servant; save the child of your serving girl.
Show me a sign of your favor, so that those who hate me may see it and be put to shame, because you, LORD, have helped me and comforted me.
A READING FROM THE GOSPEL OF MATTHEW, AT THE 13TH CHAPTER
THE RIGHTEOUS WILL DWELL IN GOD'S KINGDOM
Jesus put before them another parable: "The kingdom of heaven may be compared to someone who sowed good seed in his field; but while everybody was asleep, an enemy came and sowed weeds among the wheat, and then went away. So when the plants came up and bore grain, then the weeds appeared as well. And the slaves of the householder came and said to him, 'Master, did you not sow good seed in your field? Where, then, did these weeds come from?' He answered, 'An enemy has done this.' The slaves said to him, 'Then do you want us to go and gather them?' But he replied, 'No; for in gathering the weeds you would uproot the wheat along with them. Let both of them grow together until the harvest; and at harvest time I will tell the reapers, Collect the weeds first and bind them in bundles to be burned, but gather the wheat into my barn.'"
Then Jesus left the crowds and went into the house. And his disciples approached him, saying, "Explain to us the parable of the weeds of the field." He answered, "The one who sows the good seed is the Son of Man; the field is the world, and the good seeds are the children of the kingdom; the weeds are the children of the evil one, and the enemy who sowed them is the devil; the harvest is the end of the age, and the reapers are angels. Just as the weeds are collected and burned up with fire, so will it be at the end of the age. The Son of Man will send his angels, and they will collect out of his kingdom all causes of sin and all evildoers, and they will throw them into the furnace of fire, where there will be weeping and gnashing of teeth. Then the righteous will shine like the sun in the kingdom of their Father.
A CONFESSION OF OUR SINS TO GOD
 God of all mercy, we confess that we have sinned against you,
opposing your will in our lives. We have denied your goodness in each other, in ourselves, and in the world, you have created. We repent of the evil that enslaves us, the evil we have done, and the evil done on our behalf. Forgive, restore, and strengthen us through our Savior Jesus Christ, that we may abide in your love and serve only your will. Amen.
Almighty God have mercy on us ☩, forgive us all our sins, and through the grace of Jesus Christ, strengthen us in all goodness, and by the power of the Holy Spirit keep us in eternal life. Amen.
PRAYERS OF THE PEOPLE
 O God of compassion, the giver of life and health, we pray your healing mercies upon all who are in any way affected by the outbreak of the Covid-19 coronavirus. Comfort and sustain those who have been stricken; relieve their pain, and restore to them your gifts of gladness and strength. Grant to all in authority the courage to make wise decisions that are essential for the common good, and strengthen them to lead institutions that care for those whom they serve. Watch over all first responders and those in the medical professions whose duty it is to care for the sick; guard them against all danger, and keep them safe in the knowledge that is through their sacrifice and service that the health of the whole community is promoted. Mercifully accept these our prayers, O God of all comfort, and our only help in time of need.
In peace, we pray to you, Lord God—
For all people in our daily life and work; for our families, friends, and neighbors, and for those who are alone and in danger. Hear us, Lord; for your mercy is great.
For this community, the nation, and the world; for all who work for justice, freedom, and peace; health and wellbeing; for those who bind up the wounds of racism and violence, and seek to lead us to the peaceable kingdom. Hear us, Lord; for your mercy is great.
For the just and proper use of your creation; For the victims of hunger, fear, injustice, and oppression. Hear us, Lord; for your mercy is great.
For all who are in danger, sorrow, or any kind of trouble; for those who minister to the sick, the friendless, and the needy, particularly in the midst of this worldwide pandemic. Hear us, Lord; for your mercy is great.
For the peace and unity of the Church of God; for all who proclaim the Gospel, and all who seek the Truth; for all who serve God in his Church. Hear us, Lord; for your mercy is great.
For the heartbreak in our nation and world. For the sins of bigotry and violence; for healing that of a plague that disproportionately ravages people of color, the poor, and the unprivileged. Hear us, Lord; for your mercy is great.
For the special needs and concerns of our families and friends, loved ones, and for our congregation. Hear us, Lord; for your mercy is great.
We thank you, Lord, for all the blessings of this life. We will exalt you, O God our King; And praise your Name forever and ever.
We pray for all who have died, that they may have a place in your eternal kingdom. Lord, let your loving-kindness be upon them, who put their trust in you.
Almighty God, by your Holy Spirit you have made us one with your saints in heaven and on earth: Grant that in our earthly pilgrimage we may always be
supported by this fellowship of love and prayer, and know ourselves to be surrounded by their witness to your power and mercy. We ask this for the sake of Jesus Christ, in whom all our intercessions are acceptable through the Spirit, and who lives and reigns forever and ever. Amen.
THE LORD'S PRAYER
Our Father, who art in heaven, hallowed be thy Name, thy kingdom come, thy will be done, on earth as it is in heaven. Give us this day our daily bread. And forgive us our trespasses as we forgive those who trespass against us. And lead us not into temptation, but deliver us from evil. For thine is the kingdom, and the power, and the glory forever and ever. Amen.
A THANKSGIVING
Loving God, we give you thanks for restoring us in your image and nourishing us with spiritual food in the Sacrament of Christ's Body and Blood. Now send us forth a people forgiven, healed, renewed; that we may proclaim your love to the world and continue in the risen life of Christ our Savior. Amen.
THE BLESSING
Sisters and brothers, when we go out into the world in peace, we live and walk as part of God's beloved community. May God help us all to be of good courage, hold on to what is good, return to no one evil for evil. Strengthen the faint-hearted, support the weak, aid the suffering, do justice and hope, honor all people, and let our gentleness be known by everyone. May God, who raised our Lord Jesus from death, lift us up and restore us to wholeness. And may God bless us all, ☩ in the name of the Father, the Son, and the Spirit. Amen.