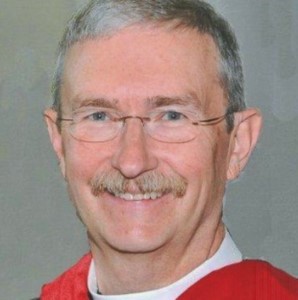 THE EIGHTEENTH SUNDAY AFTER PENTECOST
"It is God who is at work in you."
A MEDITATION
 In the series of gospel stories we've been reading, Jesus is on the way to Jeru- salem. There he will die. As his journey converges with destiny, the narrative gets ever darker and foreboding. Jesus knows what awaits him. The heaviness of that realization weighs upon him like the cross he will eventually carry.
God's vineyard is a recurrent theme in Hebrew scripture, as we see in both the text from Isaiah and the psalm. Jesus didn't invent the notion that the vineyard represented the kingdom of God on earth; all he had to do was to reference scripture that was familiar to his listeners, particularly the Temple authorities.
The parable suggests that when God arrives on the scene, he rightfully demands an accounting. Those who worked the land in ancient Israel were mostly tenant farmers. The owner of the land got the lion's share of the harvest. The workers received a fraction of the harvest, only enough to keep them in a subsistence way of life. What ensues in the parable is a local civil war.
The ante keeps getting raised. A small group of the landowner's representatives go to demand the standard share of the harvest, and the workers kill them. The owner sends a larger cohort of representatives, and the workers kill them too.
Finally, the owner, thinking that the farmers would cower before the rib-solid class structure of Israel—the owner sends his son to demand payment. They kill the son, as well. The landowner punishes the rebellious tenants with complete and merciless death.
Something that dismays me about a lot of biblical commentary is that often- times, a passage is squeezed to reflect meanings that are obscure and tortured. We "over think" scripture to reflect our pre-existing biases. The point of this parable is absolutely transparent, denoted by the response of the Jewish autho- rities listening to Jesus teach. They want to arrest Jesus on the spot for some- thing like theological treason. Jesus very much wants his hearers to understand that he is the soon to be martyred son. God is the angry vineyard owner who will lay waste to those engaged in flagrant disrespect. Among the officials, they understood personally that Jesus was talking about them. Historically, Israel would be laid waste forty years after Jesus' death by the Roman army. The parable is not only a parable. It became a shuddering, terrifying fact.
Pastor Neil
Alleluia. Christ is risen. The Lord is risen indeed. Alleluia.
 SIGN OF THE CROSS
People         ☩ In the name of the Father, and of the Son, and of the Holy Spirit. Amen.
 Celebrant    Blessed be God: Father, Son, and Holy Spirit.
People         And blessed be his kingdom, now and forever. Amen.
 Celebrant    Almighty God, to you all hearts are open, all desires known, and from you no secrets are hid: Cleanse the thoughts of our hearts by the inspiration of your Holy Spirit, that we may perfectly love you, and worthily magnify your holy name.
People         Amen.
THE COLLECT OF THE DAY
Celebrant             The Lord be with you.
People                   And also with you.
Celebrant             Let us pray.
Almighty and everlasting God, you are always more ready to hear than we to pray, and to give more than we either desire or deserve. Pour upon us the abundance of your mercy, forgiving us those things of which our conscience is afraid. Give us those good things for which we are not worthy to ask, except through the merits and mediation of Jesus Christ our Savior. Who lives and reigns with you and the Holy Spirit, one God, forever and ever. Amen.
A READING FROM ISAIAH AT THE 5TH CHAPTER
MY VINEYARD DOES NOT DESERVE TO LIVE
Reader        A Reading from Isaiah
Let me sing for my beloved my love-song concerning his vineyard: My beloved had a vineyard on a very fertile hill. He dug it and cleared it of stones, and planted it with choice vines; he built a watchtower in the midst of it, and hewed
out a wine vat in it; he expected it to yield grapes, but it yielded wild grapes. And now, inhabitants of Jerusalem and people of Judah, judge between me and my vineyard. What more was there to do for my vineyard that I have not done in it? When I expected it to yield grapes, why did it yield wild grapes? And now I will tell you what I will do to my vineyard. I will remove its hedge, and it shall be devoured; I will break down its wall, and it shall be trampled down. I will make it a waste; it shall not be pruned or hoed, and it shall be overgrown with briers and thorns; I will also command the clouds that they rain no rain upon it. For the vineyard of the LORD of hosts is the house of Israel, and the people of Judah are his pleasant planting; he expected justice, but saw bloodshed; righteousness, but heard a cry!
Reader        The Word of the Lord.
People         Thanks be to God.
 Reader        Let us read together from Psalm 80
 Restore us, O God of hosts; let your face shine, that we may be saved. You brought a vine out of Egypt; you drove out the nations and planted it. You cleared the ground for it; it took deep root and filled the land.
The mountains were covered with its shade, the mighty cedars with its branches;
it sent out its branches to the sea, and its shoots to the River.
Why then have you broken down its walls, so that all who pass along the way pluck its fruit?
The boar from the forest ravages it, and all that move in the field feed on it.
Turn again, O God of hosts; look down from heaven, and see; have regard for this vine,
the stock that your right hand planted.
 A READING FROM THE GOSPEL OF MATTHEW,
AT THE 21ST CHAPTER
THOSE WHO ARE FIRST IN LINE FOR REDEMPTION
Celebrant The holy gospel according to Matthew People                   Glory to you, O Lord.
"Listen to another parable. There was a landowner who planted a vineyard, put a fence around it, dug a wine press in it, and built a watchtower. Then he leased
it to tenants and went to another country. When the harvest time had come, he sent his slaves to the tenants to collect his produce. But the tenants seized his slaves and beat one, killed another, and stoned another. Again, he sent other slaves, more than the first; and they treated them in the same way. Finally, he sent his son to them, saying, 'They will respect my son.' But when the tenants saw the son, they said to themselves, 'This is the heir; come, let us kill him and get his inheritance." So, they seized him, threw him out of the vineyard, and killed him.
"Now when the owner of the vineyard comes, what will he do to those tenants?" They said to him, "He will put those wretches to a miserable death, and lease the vineyard to other tenants who will give him the produce at the harvest time." Jesus said to them, "Have you never read in the scriptures: 'The stone that the builders rejected has become the cornerstone; this was the Lord's doing, and it is amazing in our eyes'? Therefore, I tell you, the kingdom of God will be taken away from you and given to a people that produces the fruits of the kingdom. The one who falls on this stone will be broken to pieces; and it will crush anyone on whom it falls."
When the chief priests and the Pharisees heard his parables, they realized that he was speaking about them. They wanted to arrest him, but they feared the crowds, because they regarded him as a prophet.
Celebrant    The Gospel of the Lord.
People         Praise to you, Lord Christ.
MEDITATION                                                                     Pastor Neil
THE NICENE CREED (please stand)
 We believe in one God, the Father, the Almighty, maker of heaven and earth, of all that is, seen and unseen.
 We believe in one Lord, Jesus Christ, the only Son of God, eternally begotten of the Father, God from God, Light from Light, true God from true God, begotten not made, of one Being with the Father.
Through him all things were made. For us and for our salvation he came down from heaven: by the power of the Holy Spirit he became
incarnate from the Virgin Mary and was made man. For our sake he was crucified under Pontius Pilate; he suffered death and was buried. On the third day he rose again in accordance with the Scriptures; he ascended into heaven and is seated at the right hand of the Father. He will come again in glory to judge the living and the dead, and his kingdom will have no end.
 We believe in the Holy Spirit, the Lord, the giver of life, who proceeds from the Father and the Son. With the Father and the Son, he is worshiped and glorified. He has spoken through the Prophets. We believe in one holy catholic and apostolic Church. We acknowledge one baptism for the forgiveness of sins. We look for the resurrection of the dead, and the life of the world to come. Amen.
 PRAYERS OF THE PEOPLE
 Celebrant            
O God of compassion, giver of life and health, we pray your healing mercies upon all who are in any way affected by the outbreak of the Covid-19 coronavirus. Comfort and sustain those who have been stricken; relieve their pain, and restore to them your gifts of gladness and strength. Let us not forget to yield to your mercy and healing Mr. and Mrs. Trump, and other leaders who have been diagnosed with Covid over the last several days. Grant to all in authority the courage to make wise decisions that are essential for the common good, and strengthen them to lead institutions that care for those whom they serve. Watch over all first responders and those in the medical professions whose duty it is to care for the sick; guard them from all danger, and keep them safe in the knowledge that is through their sacrifice and service that the health of the whole community is promoted. Mercifully accept these our prayers, O God of all comfort, and our only help in time of need.
Reader        In peace, we pray to you, Lord God—
For the holy Church of God, that it may be filled with truth and love, and be found without fault at the day of your coming. For our Presiding Bishop, for our own Bishops, for all other ministers, and for all the holy people of God. We pray to you, O Lord have mercy.
 For all who fear God and believe in you, Lord Christ, that our divisions may cease; may we be vigilant and wise to harden our ears to those who would inflame, divide, and discourage us. We pray to you, O Lord have mercy.
 For the mission of the Church, that in faithful witness it may preach the Gospel to the ends of the earth. For those who struggle in a world they see as spinning out of control, who are panicked by the pandemic, suffering financial distress, and who are wondering if they can go on. We pray to you, O Lord have mercy.
 For peace in the world, that a spirit of respect and forbearance may grow among nations and peoples; for a way forward for our beleaguered nation, as we find ourselves in the midst of a brutal election. We pray to you, O Lord have mercy.
 For those in positions of public trust, that they may serve justice, and promote the dignity and freedom of every person, we pray to you, O Lord have mercy.
 For all who live and work in this community, but who don't feel that they receive a fair portion and a fair reward for their labors and efforts. For those who rightly feel they are the victims of state sanctioned violence, and are frustrated in seeking redress. We pray to you, O Lord have mercy.
For a blessing upon all human labor, and for the right use of the riches of creation, that the world may be freed from poverty, famine, and disaster, and for enlightened earth stewardship. We pray to you, O Lord have mercy.
 For the poor, the persecuted, the sick, and all who suffer; for refugees, prisoners, and all who are in danger; that they may be relieved and protected. We pray to you, O Lord have mercy.
 For St. John's Mt. Washington, at Springwell; for those who are present, and for those who are absent, that we may be delivered from hardness of heart, and show forth your glory in all that we do. We pray to you, O Lord have mercy.
 For our enemies and those who wish us harm; and for all whom we have injured or offended. For ourselves; for the forgiveness of our sins, and for the grace of the Holy Spirit to amend our lives. We pray to you, O Lord have mercy.
 For all who have commended themselves to our prayers; for our families, friends, and neighbors. We pray to you, O Lord have mercy.
 For all who have died in the communion of your Church. In honor and thanksgiving of the justice ministry of Ruth Bader Ginsberg. For those who have died whose faith is known to you alone, that, with all the saints, they may have rest in that place where there is no pain or grief, but life eternal. We pray to you, O Lord have mercy.
 Silence to yield our own prayers to God.
 Celebrant             Almighty God, by your Holy Spirit you have made us one with your saints in heaven and on earth: Grant that in our earthly pilgrimage we may always be supported by this fellowship of love and prayer. We ask this for the sake of Jesus Christ, in whom all our intercessions are acceptable through the Spirit, and who lives and reigns for ever and ever. Amen.
A CONFESSION OF OUR SINS TO GOD
People        
God of all mercy, we confess that we have sinned against you, opposing your will in our lives. We have denied your goodness in each other, in ourselves, and in the world you have created. We repent of the evil that enslaves us, the evil we have done, and the evil done on our behalf. Forgive, restore, and strengthen us through our Savior Jesus Christ, that we may abide in your love and serve only your will. Amen.
 Celebrant    Almighty God have mercy on us ☩, forgive us all our sins, and through the grace of Jesus Christ, strengthen us in all goodness, and by the power of the Holy Spirit keep us in eternal life. Amen.
 THE GREAT THANKSGIVING
Celebrant             The Lord be with you.
People                   And also with you.
Celebrant             Lift up your hearts.
People                   We lift them to the Lord.
Celebrant             Let us give thanks to the Lord our God.
People               It is right to give our thanks and praise.
 It is truly right to glorify you, Father, and to give you thanks; for you alone are God, living and true, dwelling in light inaccessible, from before time and forever. Fountain of life and source of all goodness, you made all things and fill them with your blessing; you created them to rejoice in the splendor of your radiance.
Countless throngs of angels stand before you to serve you night and day. Beholding the glory of your presence, they offer you unceasing
praise. Joining with them, and giving voice to every creature under heaven, we acclaim you and glorify your Name, as we repeat the refrain:
People         Holy, holy, holy Lord, God of power and might, heaven and earth are full of your glory. Hosanna in the highest. Blessed is he who comes in the name of the Lord. Hosanna in the highest.
 Holy and gracious Father: In your infinite love you made us for yourself. When we had fallen into sin and become subject to evil and death, you, in your mercy, sent Jesus, your only and eternal Son, to share our human nature, to live and die as one of us, to reconcile us to you, the God and Father of us all. He stretched out his arms upon the cross, and offered himself in obedience to your will, a perfect sacrifice for the whole world.
On the night before his suffering and death, our Lord Jesus took bread; and when he had given thanks to you, he broke it, and gave it to his disciples, and said, "Take and eat: This is my Body, which is given for you. Do this for the remembrance of me."
After supper he took the cup of wine; and when he had given thanks, Jesus gave it to them, and said, "Drink this, all of you: This is my Blood of the new Covenant, which is shed for you and for all for the forgiveness of sins. Whenever you drink it, you do this for the remembrance of me."
Therefore, we proclaim the mystery of faith:
Christ has died. Christ is risen. Christ will come again.
 We celebrate the memorial of our redemption in this sacrifice of praise and thanksgiving. Recalling his death, resurrection, and ascension, we offer you these gifts. Sanctify them by your Holy
Spirit to be for your people the Body and Blood of your Son Jesus, the holy food and drink of new and unending life in him
Send now, we pray, your Holy Spirit, upon your redeemed and holy people, ☩ and upon these your gifts of bread and wine, that we may bear fruit worthy of repentance. Bless us to abound in hope, be filled with all joy and peace in believing, and receive our inheritance with all your saints in light.
People        
Through Christ and with Christ and in Christ, in the unity of the Holy Spirit, to you be honor, glory, and praise, for ever and ever. Amen.
And now, as our Savior Christ has taught us, we are bold to pray: THE LORD'S PRAYER
People        
Our Father, who art in heaven, hallowed be thy Name, thy kingdom come, thy will be done, on earth as it is in heaven. Give us this day our daily bread. And forgive us our trespasses as we forgive those who trespass against us. And lead us not into temptation, but deliver us from evil. For thine is the kingdom, and the power, and the glory for ever and ever. Amen.
 A CALL TO COMMUNION
Celebrant    The gifts of God for the people of God. Take them in remembrance that Christ died for you, and feed on him in your hearts by faith, with thanksgiving.
A THANKSGIVING
People        
Loving God, we give you thanks for restoring us in your image and nourishing us with spiritual food in the Sacrament of Christ's Body and Blood. Now send us forth a people forgiven, healed, renewed; that we may proclaim your love to the world and continue in the risen life of Christ our Savior. Amen.
 THE BLESSING
Celebrant             Sisters and brothers, when we go out into the world in peace. We live and walk as part of God's beloved community. May God help us all to be of good courage, hold on to what is good, return to no one an evil for an evil. Strengthen the faint-hearted, support the weak, aid the suffering, do justice and hope, honor all people, and let our gentleness be known by everyone. May God, who raised our Lord Jesus from death, lift us up and restore us to wholeness. And may God bless us all, ☩ in the name of the Father, the Son, and the Spirit. Amen.
 Celebrant     Go in peace to love and serve the Lord.
People         Thanks be to God.
MORE ABOUT THE ART ON THIS BULLETIN COVER "The Red Vineyard," Vincent van Gogh Pushkin Museum, Moscow Vincent Willem van Gogh, 30 March 1853 – 29 July 1890, was a Dutch post-impressionist painter who is among the most famous and influential figures in the history of Western art. In just over a decade, he created about 2,100 artworks, including around 860 oil paintings, most of which date from the last two years of his life. They include landscapes, still lifes, portraits and self-portraits, and are characterized by bold colors and dramatic, impulsive and expressive brushwork that contributed to the foundations of modern art. He was not commercially successful, and his suicide at 37 came after years of mental illness, depression, and poverty. Van Gogh sold his first painting in Brussels. "The Red Vineyard," done in Arles, France, went to Anna Boch for 400 francs. It was to be his only sale during his lifetime. This fact should not be over emphasized, though, Vincent was so willing to give his paintings as presents that many would-be purchasers never needed to part with a penny. According to a letter written on November 6, 1888, by Vincent van Gogh to his brother Theo, the vineyard looked like red wine in the sunset. The vineyard in the top half of the painting looks yellow, just as Van Gogh observed it during his stroll through the vineyards. Many workers are depicted as blank silhouettes. The field workers are picking vines during fall. They naturally blend in with the vineyard. On the top left is a series of blue and green trees and in the middle background is a house. This painting is referred to as "The Red Vineyard at Arles." Van Gogh created it in a single day on November 5, 1888. He painted this work about two weeks after Paul Gauguin joined him in Arles. The colorful works of Gauguin inspired Van Gogh to also use more colors for this painting, and he continued to do that in his later works. Van Gogh created this painting from his memory, the day after an evening walk through the vineyards near Arles. Van Gogh liked to work from memory rather than by directly painting from observation as painting from memory gives paintings a more artistic look. Van Gogh only started painting at age 27 on the advice of his brother. In 1888, Gauguin visited Van Gogh in Arles. Van Gogh's work was different from the popular Impressionist paintings at that time and was not much in demand. There were a few art critics and artists that appreciated his work, but he was ahead of his time for most of the rest of the people. After his death, his works became much more popular, until today where his paintings are instantly recognizable because of their brushwork and color.