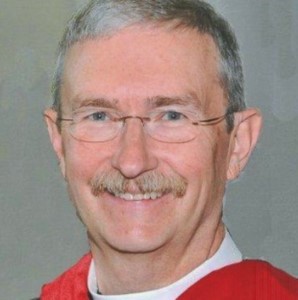 By: Reverend Dr. Neil O'Farrell
A MEDITATION 
Prepare the Way! 
Think about it: This Jesus—he's swept Israel by storm, so to speak. His story appeared to end badly, because he was crucified by the Romans, with a crucial assist from the Temple authorities. But—and this but is crucial: he rose from the dead. His movement is growing larger with new followers every day. But the  question is, "Where did he come from?" 
This is not a small question. All the gospel writers work to address it. The writer of the gospel of Mark put an answer within the first several verses of his account. The trajectory has two parts: first an introduction of John the baptizer,  who was heralded by the prophet Isaiah. John will validate Jesus. All of this was foretold centuries before, in the unfolding of salvation history. The salvation story is God's methodical plan to rescue humanity from sin and death. This glorious mystery has been handed down even to us in our modern age. 
It isn't until very much later in the gospel that Jesus is called the Messiah. There is an almost sly, playful seriousness about the revelation. We all know who Jesus is, but Mark's gospel is in no hurry to confirm it. Scholars have called this the  "messianic secret"—an open secret, but one that is largely unspoken until the gospel heads to its culmination.  
Mark's gospel was written maybe 30 or 40 years after Jesus' death. That means that that there were people who were personally acquainted with both Jesus the person and the subsequent account of early scripture. This gospel of Mark stands alone in putting Jesus' story on the line that folks could support by direct witness. Or even refute. That is why Mark picks his words and stories carefully. The work has to be an accurate accounting.  
That doesn't mean it is like our modern understanding of a biography. The gospel is still a faith document and spiritual revelation. It is a proclamation and an account that has an agenda. Written by a believer, both for other believers and for those who needed an introduction and even some convincing.  
All of this makes the gospel of Mark particularly precious. It is the first written account of the true, profound miracle story of Jesus, his ministry, and what it all means. "Prepare the way of the Lord!" 
Pastor Neil
Celebrant Alleluia. Christ is risen.  
People The Lord is risen indeed. Alleluia. 
SIGN OF THE CROSS 
People ☩ In the name of the Father, and of the Son, and of the  Holy Spirit. Amen. 
Celebrant Blessed be God. 
People And blessed be his kingdom, now and forever. Amen.    
Celebrant Almighty God, to you all hearts are open, all desires known, and from you no secrets are hid: Cleanse the thoughts of our hearts by the inspiration of your Holy Spirit, that we may perfectly  love you, and worthily magnify your holy name. 
People Amen.  
THE COLLECT OF THE DAY 
Celebrant The Lord be with you. 
People And also with you.  
Celebrant Let us pray. 
Merciful God, who sent your messengers the prophets to preach repentance and prepare the way for our salvation: Give us grace to heed their warnings and forsake our sins, that we may greet with joy the coming of Jesus Christ our Redeemer; who lives and reigns with you and the Holy Spirit, one God, now and for ever. Amen.
A READING FROM ISAIAH AT THE 40TH CHAPTER 
Lift Your Voices Up, Do Not Fear 
Reader A Reading from the prophet Isaiah 
Comfort, O comfort my people, says your God. Speak tenderly to  Jerusalem, and cry to her that she has served her term, that her penalty is paid, that she has received from the Lord's hand double for all her sins.  
A voice cries out: "In the wilderness prepare the way of the LORD,  make straight in the desert a highway for our God. Every valley shall be lifted up, and every mountain and hill be made low; the uneven ground shall become level, and the rough places a plain. Then the  glory of the LORD shall be revealed, and all people shall see it  together, for the mouth of the LORD has spoken." A voice says, "Cry  out!" And I said, "What shall I cry?" All people are grass, their constancy is like the flower of the field. The grass withers, the flower fades, when the breath of the LORD blows upon it; surely the people are grass. The grass withers, the flower fades, but the word of our  God will stand forever.  
Get you up to a high mountain, O Zion, herald of good tidings; lift up  your voice with strength, O Jerusalem, herald of good tidings, lift it  up, do not fear; say to the cities of Judah, "Here is your God!" See,  the Lord GOD comes with might, and his arm rules for him; his reward is with him, and his recompense before him. He will feed his flock like a shepherd; he will gather the lambs in his arms, and carry them in his bosom, and gently lead the mother sheep.  
Reader The Word of the Lord. 
People Thanks be to God.  
 Reader Let us read together from Psalm 85 
LORD, you were favorable to your land; you restored the fortunes of  Jacob.  
You forgave the iniquity of your people; you pardoned all their sin.  
Let me hear what God the LORD will speak, for he will speak peace to his people, to his faithful, to those who turn to him in their hearts.  
Surely his salvation is at hand for those who fear him, that his glory may dwell in our land.  
Steadfast love and faithfulness will meet; righteousness and peace will kiss each other.  
Faithfulness will spring up from the ground, and righteousness will look down from the sky.  
The LORD will give what is good, and our land will yield its increase.  Righteousness will go before him, and will make a path for his steps.  
A READING FROM THE GOSPEL OF MARK, AT THE 1ST CHAPTER
The Voice of One Crying Out in the Wilderness 
Celebrant The beginning of the holy gospel according to Mark People Glory to you, O Lord.  
The beginning of the good news of Jesus Christ, the Son of God.  As it is written in the prophet Isaiah,  
"See, I am sending my messenger ahead of you, 
who will prepare your way;
the voice of one crying out in the wilderness: 
'Prepare the way of the Lord, 
make his paths straight,'" 
John the baptizer appeared in the wilderness, proclaiming a baptism of repentance for the forgiveness of sins. And people from the whole  Judean countryside and all the people of Jerusalem were going out to  
him, and were baptized by him in the river Jordan, confessing their sins. Now John was clothed with camel's hair, with a leather belt around his waist, and he ate locusts and wild honey. He proclaimed,  "The one who is more powerful than I is coming after me; I am not worthy to stoop down and untie the thong of his sandals. I have  baptized you with water, but he will baptize you with the Holy  Spirit."  
Celebrant The Gospel of the Lord. 
People Praise to you, Lord Christ.  
MEDITATION Pastor Neil 
THE NICENE CREED  
 We believe in one God, the Father, the Almighty, maker of heaven and earth, of all that is, seen and unseen.  
 We believe in one Lord, Jesus Christ, the only Son of God, eternally begotten of the Father, God from God, Light from Light, true God from true God, begotten not made, of one Being with the Father.  Through him all things were made. For us and for our salvation he came down from heaven: by the power of the Holy Spirit, he became incarnate from the Virgin Mary and was made man. For our sake he was crucified under Pontius Pilate; he suffered death and was buried.  On the third day he rose again in accordance with the Scriptures; he ascended into heaven and is seated at the right hand of the Father. He will come again in glory to judge the living and the dead, and his kingdom will have no end.  
  We believe in the Holy Spirit, the Lord, the giver of life, who proceeds from the Father and the Son. With the Father and the Son,  he is worshiped and glorified. He has spoken through the Prophets.  We believe in one holy catholic and apostolic Church. We acknowledge one baptism for the forgiveness of sins. We look for the resurrection of the dead, and the life of the world to come. Amen.  
PRAYERS OF THE PEOPLE 
Celebrant O God of compassion, giver of life and health, we pray your healing mercies upon all who are in any way affected by the outbreak of Covid. Comfort and sustain those who have been stricken; relieve their pain and restore to them your gifts of gladness and strength. Grant to all in authority the courage to make wise decisions that are essential for the common good, and strengthen them to lead institutions that care for those whom they serve. Watch over first responders and those in the medical professions whose duty it is to care for the sick; guard them from all danger, and keep them safe in the knowledge that is through their sacrifice and service that the health of the whole community is promoted. Lift the darkness from those of us who are scared and grieving. Mercifully accept these our prayers, O God of all comfort, and our only help in time of need. 
Reader In peace, we pray to you, Lord God— 
Grant, Almighty God, that all who confess your name may be united in your truth, live together in your love, and reveal your glory in the  world. Lord, in your mercy, Hear our prayer. 
Guide the people of this land, and of all the nations, in the ways of justice and peace; that we may honor one another and serve the common good. Be with us as the election continues to find right and 
peaceful resolution, and make wise and good all those who have been elected to offices of public trust. Heal the rifts that bind, vex, and scare us. Lord, in your mercy, Hear our prayer.  
Give us all a reverence for the earth as your own creation, that we may use its resources rightly in the service of others and to your honor and glory. Heal the wounds of those who have been victimized by climate change and destruction. Lord, in your mercy, Hear our  prayer.  
Bless all whose lives are closely linked with ours, and grant that we  may serve Christ in them, and love one another as he loves us. Lord,  in your mercy, Hear our prayer.  
Comfort and heal all those who suffer in body, mind, or spirit; give us purpose and hope in troubles, and bring us the joy of your salvation. Bestow courage upon those who look out at the world, and who  wonder if there is a safe and gracious place for them. Lord, in your  mercy, Hear our prayer. 
We commend to your mercy all who have died, that your will for them may be fulfilled; and, we pray that we may share with all your saints in your eternal kingdom. Lord, in your mercy, Hear our prayer. 
Silence to lift up our own prayers to God 
Celebrant Almighty God, by your Holy Spirit you have made us one with your saints in heaven and on earth: Grant that in our earthly pilgrimage, we may always be supported by this community of fellowship of love and prayer. We ask this for the sake of Jesus  Christ, in whom all our intercessions are acceptable through the  Spirit, and who lives and reigns for ever and ever. Amen.
A CONFESSION OF OUR SINS TO GOD 
People God of all mercy, we confess that we have sinned against you, opposing your will in our lives. We have denied your goodness in each other, in ourselves, and in the world, you have created. We repent of the evil that enslaves us, the evil we have done, and the evil done on our behalf. Forgive, restore, and strengthen us through our  Savior Jesus Christ, that we may abide in your love and serve only your will. Amen. 
Celebrant Almighty God have mercy on us ☩, forgive us all our sins,  and through the grace of Jesus Christ, strengthen us in all goodness,  and by the power of the Holy Spirit keep us in eternal life. Amen. 
THE GREAT THANKSGIVING 
Celebrant The Lord be with you. 
People And also with you. 
Celebrant Lift up your hearts. 
People We lift them to the Lord. 
Celebrant Let us give thanks to the Lord our God. People It is right to give our thanks and praise.  
God of all power, Ruler of the Universe, you are worthy of glory and praise. Glory to you for ever and ever.  
At your command, all things came to be: the vast expanse of interstellar space, galaxies, suns, the planets in their courses, and this fragile earth, our island home. By your will, they were created and have their being.  
From the primal elements, you brought forth the human race and blessed us with memory, reason, and skill. You made us the rulers of creation. But we turned against you, and betrayed your trust; and we turned against one another. Have mercy, Lord, for we are sinners in your sight.  
Again and again, you called us to return to your fold. Through prophets and sages, you revealed your righteous Law. And in the fullness of time, you sent your only Son, born of a woman, to fulfill your Law, to open for us the way of freedom and peace. By his blood,  he reconciled us. By his wounds, we are healed.  
And therefore we praise you, joining with the heavenly chorus, with  prophets, apostles, and martyrs, and with all those in every  generation who have looked to you in hope—to proclaim with them  your glory, in their unending hymn: 
Celebrant and People Holy, Holy, Holy Lord, God of power and might,  heaven and earth are full of your glory. Hosanna in the highest.  Blessed is he who comes in the name of the Lord. Hosanna in the highest.  
Celebrant And so, Father, we who have been redeemed by him, and made a new people by water and the Spirit, now bring before you  these gifts. Sanctify them by your Holy Spirit to be the Body and  Blood of Jesus Christ our Lord. 
On the night he was betrayed he took bread, said the blessing ☩,  broke the bread, and gave it to his friends, and said, "Take, eat: This  is my Body, which is given for you. Do this for the remembrance of  me." 
After supper, he took the cup of wine, gave thanks ☩, and said,  "Drink this, all of you: This is my Blood of the new Covenant, which  is shed for you and for many for the forgiveness of sins. Whenever  you drink it, do this for the remembrance of me."
Remembering now his work of redemption, and offering to you this sacrifice of thanksgiving, We celebrate his death and resurrection, as we await the day of his coming.  
Lord God of our Ancestors: God of Abraham, Sarah, and Hagar; Isaac and Rebekah; and Jacob, Leah, and Rachel. God and Father of our  Lord Jesus Christ, born to Mary, his mother, and watched over by  Joseph, with a father's care: Open our eyes to see your hand at work in the world about us. Deliver us from the presumption of coming to this table for solace only, and not for strength; for pardon only, and not for renewal. Let the grace of this Holy Communion make us one body, one spirit in Christ, that we may worthily serve the world in his name. 
Risen Lord, be known to us in the breaking of the Bread.  
Send now, we pray, your Holy Spirit, upon your redeemed and holy people, ☩ and upon these your gifts of bread and wine, that we may bear fruit worthy of repentance. Bless us to abound in hope, be filled with all joy and peace in believing, and receive our inheritance with all your saints in light.  
People Through Christ and with Christ and in Christ, in the unity of the Holy Spirit, to you, be honor, glory, and praise, for ever and ever. Amen.  
And now, as our Savior Christ has taught us, we are bold to pray: THE LORD'S PRAYER 
People Our Father, who art in heaven, hallowed be thy Name, thy kingdom come, thy will be done, on earth as it is in heaven. Give us this day our daily bread. And forgive us our trespasses as we forgive those who trespass against us. And lead us not into temptation, but deliver us from evil. For thine is the kingdom, and the power, and the glory for ever and ever. Amen. 
A CALL TO COMMUNION 
Celebrant The gifts of God for the people of God. Take them in remembrance that Christ died for you, and feed on him in your hearts by faith, with thanksgiving. Come, partake to your soul's delight. 
THE THANKSGIVING 
People Loving God, we give you thanks for restoring us in your image and nourishing us with spiritual food in the Sacrament of  Christ's Body and Blood. Now send us forth a people forgiven,  healed, renewed; that we may proclaim your love to the world and continue in the risen life of Christ our Savior. Amen.  
THE BLESSING 
Celebrant Sisters and brothers, we go out into the world in peace. We live and walk as part of God's beloved community. May  God help us all to be of good courage, to hold on to what is good, and to return to no one an evil for an evil. Strengthen the faint-hearted,  support the weak, aid the suffering, do justice and hope, honor all people, and let our gentleness be known by everyone. May God, who raised our Lord Jesus from death, lift us up and restore us to wholeness. And may God bless us all, ☩ in the name of the Father,  the Son, and the Holy Spirit. Amen. 
Celebrant Go in peace to love and serve the Lord. 
People Thanks be to God.
MORE ON THE ARTWORK ON THIS BULLETIN'S COVER The Basilica of St. Mark in Venice is one of the world's great art treasures. Although mosaics are crucial to both the exterior and interior spaces of the church, truly taken as a whole, the structure is a mosaic of objects created, pillaged, found, and repurposed. It sits atop the site of a basilica built in the 800s. It was built to house the remains of St. Mark, whose body was absconded with by wily Venetian merchants who smuggled it out of Egypt in a barrel of pork fat. That structure burned, and it was refashioned anew bigger and more ornate. The basilica has always been a reflection of how the powers who owned and ran Venice thought of themselves, their city, and its powerful place in the world. The interior more or less has been intact for a thousand years. It has survived through fires and floods and has been constantly fiddled with by rulers of the city, and a succession of architects, builders, and artists. Its style hearkens to structures of the Middle, with aspects that are homegrown in Italy, and then, with imported gothic touches from Europe. The brilliant mosaics were a feature of the original church; and mosaics were still being added until the 1800s. Scarcely an interior surface is left unadorned. Most of the structural elements of the building comprise stonework carved from marble and rare minerals. It is difficult to see the original material of the basilica, which was simply brick. It was known from the beginning that the brickwork would eventually be covered by something grander. Whenever new work was conceived, the dimensions of the church were extended and ornamented lavishly. In 1094 the body considered traditionally to be that of Saint Mark was rediscovered in a pillar, and given his own exalted place in the building. And modest St. Mark, whose gospel uses the simplest language and is by far the shortest, finds himself memorialized in a building brazen, in the best possible way, for its ostentation.