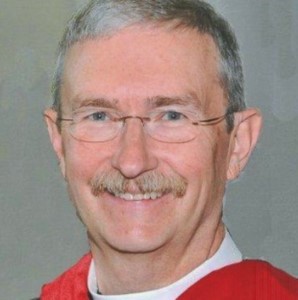 Reverend Dr. Neil O'Farrell
The Feast of St. John
 Light and Salvation: Promises Fulfilled
A Meditation
Who is the real John embedded in the legendary St. John? Surely, we think of John the beloved disciple. Also, the John who wrote the gospel that bears his name, and then John of Patmos who wrote Revelation, and then, also additionally, the writer of the epistles of John.
As a biblical student, if I assume that John was one of Jesus' apostles, this particular John lived too early to have written parts of the bible because the biblical texts were written at least 60 years after Jesus' death. Now, there was an honored ancient tradition of writing and affixing the name of someone nobler, more recognizable on it. This gets closer to something more plausible to explain the time span.
Thus, we're left with a St. John who is unknowable, even ephemeral. In my mind, I hold tightly on to the personage of the beloved apostle. I also treasure that the gospel of John is one of the most important works of literature and theology the world has known. It represents an encapsulation of someone who was particularly close to Jesus, his family, and other followers; as well as the inspiration for the fourth gospel, with its poetry, miracles, quotability ("For God so loved the world"; the "I am" statements, such as "I am the bread of life," "I am the light of the world," "I am the good shepherd"; and brilliant miracle stories such as changing water into wine, and the raising of Lazarus. And all of us can spend an entire lifetime in devotion to the opening words of the gospel: "In the beginning was the Word, and the Word was with God, and the Word was God. He was in the beginning with God. All things came into being through him, and without him, not one thing came into being. What has come into being, in him was life, and the life was the light of all people. The light shines in the darkness, and the darkness did not overcome it."
When I think of St. John, I think of Jesus' most devoted follower, someone who was there even at his death, someone whom Jesus loved and relied on so much that he commended his mother's care to; and someone who wanted to tell the world about Jesus through that glorious gospel. While it's improbable that one individual owned all of these roles and honorifics, there is a powerful case to be made to link this array of descriptions and roles as an array of spiritual guidance, and as an aspiration for a well-lived life in Jesus' name.
Pastor Neil
Sign of the Cross
Celebrant  We gather together, as we live, …
People        ☩ In the name of the Father, and of the Son, and of the Holy Spirit. Amen.
Celebrant   Blessed be God.
 People         And blessed be his kingdom, now and forever. Amen.
Celebrant    Almighty God, to you all hearts are open, all desires known, and from you no secrets are hid: Cleanse the thoughts of our hearts by the inspiration of your Holy Spirit, that we may perfectly love you, and worthily magnify your holy name.
People         Amen.
 Opening Proclamation
Celebrant    Behold, I bring you good news of a great joy, which will come to all the people; for unto you is born this day in the city of David, a Savior, who is Christ the Lord.   (Luke 2:10, 11) The Word was made flesh and dwelt among us.
Collect of the Day
Celebrant    Let us pray: Almighty God, you have surrounded us with a great cloud of witnesses: Grant that we, encouraged by the good example of your servant St. John.., may persevere in running the race that is set before us, until at last we may with him attain to your eternal joy; through Jesus Christ, the pioneer and perfecter of our faith, who lives and reigns with you and the Holy Spirit, one God, forever and ever. Amen.
 Opening Dialogue
Celebrant   Great and wonderful are your deeds, O Lord God the almighty,
People         Just and true are your ways, O Sovereign of the nations.
Celebrant   Who shall not revere and praise your name O Lord, for you alone are holy.
People         All nations shall come and worship in your presence for your just dealings have been revealed.
Celebrant    To the One who is seated on the throne, and to the Lamb,
People         Be blessing and honor, glory, and might, forever and ever. Amen.
Confession
Celebrant    Now we shall turn our hearts and minds to God, praying for mercy.
People         If we claim to be sinless, we are self-deceived and strangers to the truth. If we confess our sins, God is just and may be trusted to forgive our sins and cleanse us from every kind of wrong. (silence for reflection)
Celebrant    Spirit of God, search our hearts. (pause) We must love one another for love is of God, and whoever loves is born of God and knows God. (pause) Spirit of God, search our hearts.
People         God of mercy, we have sinned against you and against others. We have sinned in what we have done, and in what we have failed to do. We are truly sorry. For the sake of your Son Jesus Christ who died for our sins, forgive us all that is past and raise us to newness of life. Amen.
Celebrant   Almighty God, who pardons all who truly repent, forgive us our sins, strengthen us by the Holy Spirit, and keep us in life eternal, through Jesus Christ our Redeemer.
People                   Amen.
Steadfast Love
Celebrant    The steadfast love of the Lord never ceases: God's mercies never come to an end;
People         They are new every morning; your faithfulness, O Lord is great.
Celebrant    You are all that I have, and therefore I will wait for you.
People         You, O Lord, are good to those who wait for you, to all who seek you.
Celebrant    It is good to wait in patience for the salvation of the Lord.
People         Glory to the Father and Son and the Holy Spirit, as it was in the beginning, is now, and shall be forever. Amen.
A Reading from Galatians at the 4th Chapter
Jesus Is at the Core a Law-Abiding Jew
Reader        A Reading from Galatians
But when the fullness of time had come, God sent his Son, born of a woman, born under the law, in order to redeem those who were under the law, so that we might receive adoption as children. And because you are children, God has sent the Spirit of his Son into our hearts, crying, "Abba! Father!" So you are no longer a slave but a child, and if a child then also an heir, through God.
Reader        The Word of the Lord.
 People         Thanks be to God.
Reader        The Third Song of Isaiah,  proclaimed responsively  
          
Arise, shine, for your light has come,
and the glory of the Lord has dawned upon you.
For behold, darkness covers the land;
deep gloom enshrouds the peoples.
But over you the Lord will rise,
and his glory will appear upon you.
Nations will stream to your light,
and kings to the brightness of your dawning.
Your gates will always be open;
by day or night they will never be shut.
They will call you, The City of the Lord,
The Zion of the Holy One of Israel.
Violence will no more be heard in your land,
ruin or destruction within your borders.
You will call your walls, Salvation,
and all your portals, Praise.
The sun will no more be your light by day;
by night you will not need the brightness of the moon.
The Lord will be your everlasting light,
and your God will be your glory.
Glory to the Father, and to the Son, and to the Holy Spirit:
as it was in the beginning, is now, and will be forever. Amen.
A Reading from the Gospel of Luke, at the 2nd chapter
 For my eyes have seen your salvation
 Celebrant    The holy gospel according to Luke
People         Glory to you, O Lord.
When the time came for their purification according to the law of Moses, they brought him up to Jerusalem to present him to the Lord (as it is written in the law of the Lord, "Every firstborn male shall be designated as holy to the Lord"), and they offered a sacrifice according to what is stated in the law of the Lord, "a pair of turtledoves or two young pigeons."
Now there was a man in Jerusalem whose name was Simeon; this man was righteous and devout, looking forward to the consolation of Israel, and the Holy Spirit rested on him. It had been revealed to him by the Holy Spirit that he would not see death before he had seen the Lord's Messiah. Guided by the Spirit, Simeon came into the temple; and when the parents brought in the child Jesus, to do for him what was customary under the law, Simeon took him in his arms and praised God, saying, "Master, now you are dismissing your servant in peace, according to your word; for my eyes have seen your salvation, which you have prepared in the presence of all peoples, a light for revelation to the Gentiles and for glory to your people Israel."
And the child's father and mother were amazed at what was being said about him. Then Simeon blessed them and said to his mother Mary, "This child is destined for the falling and the rising of many in Israel, and to be a sign that will be opposed so that the inner thoughts of many will be revealed—and a sword will pierce your own soul too."
There was also a prophet, Anna the daughter of Phanuel, of the tribe of Asher. She was of a great age, having lived with her husband seven years after her marriage, then as a widow to the age of eighty-four. She never left the temple but worshiped there with fasting and prayer night and day. At that moment she came and began to praise God and to speak about the child to all who were looking for the redemption of Jerusalem. When they had finished everything required by the law of the Lord, they returned to Galilee, to their own town of Nazareth. The child grew and became strong, filled with wisdom; and the favor of God was upon him.
Celebrant    The Gospel of the Lord.
People         Praise to you, Lord Christ.
Pastor Neil
Psalm 34 (said antiphonally)
I will bless the LORD at all times;
God's praise shall continually be in my mouth.
 My soul makes its boast in the LORD;
let the humble hear and be glad.
O magnify the LORD with me, and let us exalt God's name together.
I sought the LORD, and God answered me and delivered me from all my fears.
Look to God, and be radiant; so your faces shall never be ashamed.
This poor soul cried, and was heard by the LORD, and was saved from every trouble.
The angel of the LORD encamps around those who fear God and delivers them.
O taste and see that the LORD is good; happy are those who take refuge in him.
On Behalf of The People of God
Let the people of God glorify the Lord,  praise him and highly exalt him for ever.
Glorify the Lord, O priests and servants of the Lord, praise him and highly exalt him for ever.
Glorify the Lord, O spirits and souls of the righteous, praise him and highly exalt him forever.
You that are holy and humble of heart, glorify the Lord, praise him and highly exalt him forever.
Let us glorify the Lord: Father, Son, and Holy Spirit; praise him and highly exalt him forever.
In the firmament of his power, glorify the Lord,  praise him and highly exalt him forever.
Glory to God    Gloria in excelsis
Celebrant and People
Glory to God in the highest, and peace to his people on earth.
Lord God, heavenly King,
almighty God and Father,
we worship you, we give you thanks,
we praise you for your glory.
Lord Jesus Christ, only Son of the Father, 
Lord God, Lamb of God,
you take away the sin of the world:
have mercy on us;
you are seated at the right hand of the Father:
receive our prayer.
For you alone are the Holy One, 
you alone are the Lord,
you alone are the Most High,
Jesus Christ,
with the Holy Spirit, 
    in the glory of God the Father. Amen.
The Apostles' Creed
I believe in God, the Father almighty,
creator of heaven and earth;
I believe in Jesus Christ, his only Son, our Lord.
He was conceived by the power of the Holy Spirit
and born of the Virgin Mary.
He suffered under Pontius Pilate,
was crucified, died, and was buried.
He descended to the dead.
On the third day, he rose again.
He ascended into heaven and is seated at the right hand of the Father.
He will come again to judge the living and the dead.
I believe in the Holy Spirit,
the holy catholic Church,
the communion of saints,
the forgiveness of sins
the resurrection of the body,
and life everlasting. Amen.
The Lord's Prayer
Our Father, who art in heaven,
hallowed be thy Name,
thy kingdom come,
thy will be done,
on earth as it is in heaven.
Give us this day our daily bread.
And forgive us our trespasses,
as we forgive those
who trespass against us.
And lead us not into temptation,
but deliver us from evil.
For thine is the kingdom,
and the power, and the glory,
for ever and ever. Amen.
Suffrages
Celebrant       Show us your mercy, O Lord;
People             And grant us your salvation.
Celebrant       Clothe your ministers with righteousness;
People             Let your people sing with joy.
Celebrant      Give peace, O Lord, in all the world;
People            For only in you can we live in safety.
Celebrant      Lord, keep this nation under your care;
People           And guide us in the way of justice and truth.
Celebrant      Let your way be known upon earth;
People           Your saving health among all nations.
Celebrant      Let not the needy, O Lord, be forgotten;
People           Nor the hope of the poor be taken away.
Celebrant      Create in us clean hearts, O God;
People           And sustain us with your Holy Spirit.
Collects
Celebrant              Heavenly Father, in you we live and move and have our being: We humbly pray you so to guide and govern us by your Holy Spirit, that in all the cares and occupations of our life we may not forget you, and may remember that we are ever walking in your sight; through Jesus Christ our Lord. Amen.
Celebrant              Almighty and everlasting God, by whose Spirit the whole body of your faithful people is governed and sanctified: Receive our supplications and prayers which we offer before you for all members of your holy Church, that in their vocation and ministry they may truly and devoutly serve you; through our Lord and Savior Jesus Christ. Amen.
Celebrant              O God, you have made of one blood all the peoples of the earth, and sent your blessed Son to preach peace to those who are far off and to those who are near: Grant that people everywhere may seek after you and find you; bring the nations into your fold; pour out your Spirit upon all flesh; and hasten the coming of your kingdom; through Jesus Christ our Lord. Amen.
The General Thanksgiving
Celebrant and People
Almighty God, Father of all mercies, we your unworthy servants give you humble thanks for all your goodness and loving-kindness to us and to all whom you have made. We bless you for our creation, preservation, and all the blessings of this life; but above all for your immeasurable love in the redemption of the world by our Lord Jesus Christ; for the means of grace, and for the hope of glory. And, we pray, give us such an awareness of your mercies, that with truly thankful hearts we may show forth your praise, not only with our lips, but in our lives, by giving up ourselves to your service, and by walking before you in holiness and righteousness all our days; through Jesus Christ our Lord, to whom, with you and the Holy Spirit, be honor and glory throughout all ages. Amen.
Celebrant  Let us bless the Lord.
People      Thanks be to God.
The Blessing
Celebrant             Sisters and brothers, we go out into the world in peace. We live and walk as part of God's beloved community. May God help us all to be of good courage, to hold on to what is good, and to return to no one an evil for an evil. Strengthen the faint-hearted, support the weak, aid the suffering, do justice and hope, honor all people, and let our gentleness be known by everyone. May God, who raised our Lord Jesus from death, lift us up and restore us to wholeness. And may God bless us all, ☩ in the name of the Father, the Son, and the Holy Spirit. Amen.
Celebrant    Go in peace to love and serve the Lord.
People         Thanks be to God.
MORE ON THE ARTWORK ON THIS BULLETIN'S COVER
Saint John the Evangelist is a 1609 work by El Greco, produced towards the end of his time in Toledo, Spain. It now hangs in the Museo del Prado, in Madrid. It shows John the Evangelist as a young man holding a chalice, which is a dragon, referring to his surviving a poisoned cup of wine in prison. El Greco was a painter, sculptor, and architect of the Spanish Renaissance. "El Greco" was a nickname, a reference to his Greek origin, and the artist normally signed his paintings with his full birth name in Greek letters. El Greco was born in the Kingdom of Candia (modern Crete), which was at that time part of the Republic of Venice, and the center of Post-Byzantine art. He trained and became a master within that tradition before traveling at age 26 to Venice, as other Greek artists had done. In 1570, he moved to Rome, where he opened a workshop and executed a series of works. During his stay in Italy, El Greco enriched his style with elements of Mannerism and of the Venetian Renaissance taken from a number of great artists of the time, notably Tintoretto. In 1577, he moved to Toledo, Spain, where he lived and worked until his death. In Toledo, El Greco received several major commissions and produced his best-known paintings. El Greco's dramatic and expressionistic style was met with puzzlement by his contemporaries but found appreciation by the 20th century. He has been characterized by modern scholars as an artist so individual that he belongs to no conventional school. He is best known for tortuously elongated figures and often fantastic or phantasmagorical pigmentation, marrying Byzantine traditions with those of Western painting.