A Meditation
The Whole City Was Gathered around the Door  
Now, I think today's bible story is one of the loveliest to be found in the gospels. If you asked people what their favorite gospel passage is, this is one they would never put near the top. There is so little action, and it's all quiet and homespun. It's like a beloved summer fair in a small town. Most everyone knew each other, over a span perhaps of decades. They worked together, married into each other's families. Celebrated the High Holidays by sacrificing a lamb and sharing it together. You can imagine children playing and dogs barking, food being cooked, and neighbors kidding and gossiping with each other and looking out for all the kids. We can safely surmise that young people are falling in love at that very time and place. Doesn't it make you want to be part of that joyous day? We can be confident that we would be welcomed to join in.
I don't want to take this reverie too far. We're not supposed to embellish the bible, but rather to take it on its own terms. But in all of these stories and passages, real people are central. We know nothing more about Peter's mother-in-law than the few words that the gospels spend on her; but, she has a daughter and a son-in-law, with whom she lives. Peter and his wife probably have kids, and she helps around the house. She rarely takes a sick day, so she must really be feeling awful that day when Peter brings home his new friend, a carpenter by trade. Jesus heals her, and she jumps up and does what she always does—takes care of her family and guests. Jesus healed her to once again do the very things that give her life the most meaning and enjoyment. 
And that is part of the essence of Jesus' miracles. Jesus is not merely curing them; he's healing them so that they can rejoin their lives already in progress. Jesus becomes close, involved, personal, and caring. He simply falls in love with the people he encounters on his journey. You have to be enamored with someone who can gather a beam of energy that enables someone to heal down to the center of their being. 
The bible describes thrilling multitudes and throngs. The gospels want you to know the many thousands of persons who come to hear Jesus. The surging crowds get in Jesus' way has he travels on. Yet, the Jesus we worship is not the person who gathers teaming multitudes. Rather, the Jesus we follow is the one who blends into the domestic life around him. Jesus: up close and personal.
Pastor Neil
Sign of the Cross
Celebrant We gather together, as we live, …
People ☩ In the name of the Father, and of the Son, and of the Holy Spirit. Amen. 
Celebrant Blessed be God.
People And blessed be his kingdom, now and forever. Amen.
Celebrant Almighty God, to you all hearts are open, all desires known, and from you no secrets are hid: Cleanse the thoughts of our
hearts by the inspiration of your Holy Spirit, that we may perfectly love you, and worthily magnify your holy name.
People Amen.
Opening Proclamation
Celebrant Behold, I bring you good news of a great joy, which will come to all the people; for unto you is born this day in the city of David, a Savior, who is Christ the Lord.   The Word was made flesh and dwelt among us. 
Collect of the Day
Celebrant Set us free, O God, from the bondage of our sins, and give us the liberty of that abundant life which you have made known to us in your Son our Savior Jesus Christ; who lives and reigns with you, in the unity of the Holy Spirit, one God, now and forever. Amen.
Opening Dialogue
Celebrant Great and wonderful are your deeds, O Lord God the almighty.
People Just and true are your ways, O Sovereign of the nations.
Celebrant Who shall not revere and praise your name, O Lord, for you alone are holy.
People All nations shall come and worship in your presence for your just dealings have been revealed.
Celebrant To the One who is seated on the throne, and to the Lamb,
People Be blessing and honor, glory, and might, forever and ever. Amen.
Confession
Celebrant Now we shall turn our hearts and minds to God, praying for mercy.
People If we claim to be sinless, we are self-deceived and strangers to the truth. If we confess our sins, God is just and may be trusted to forgive our sins and cleanse us from every kind of wrong.
(silence for reflection)
Celebrant Spirit of God, search our hearts. (pause) We must love one another for love is of God, and whoever loves is born of God and knows God. (pause) Spirit of God, search our hearts.
People God of mercy, we have sinned against you and against others. We have sinned in what we have done, and in what we have failed to do. We are truly sorry. For the sake of your Son Jesus Christ who died for our sins, forgive us all that is past and raise us to newness of life. Amen.
Celebrant Almighty God, who pardons all who truly repent, forgive us our sin, strengthen us by the Holy Spirit, and keep us in life eternal, through Jesus Christ our Redeemer.
People Amen.
Steadfast Love
Celebrant The steadfast love of the Lord never ceases: God's mercies never come to an end.
People They are new every morning; your faithfulness, O Lord, is great.
Celebrant You are all that I have, and therefore I will wait for you.
People You, O Lord, are good to those who wait for you, to all who seek you.
Celebrant It is good to wait in patience for the salvation of the Lord.
People Glory to the Father and Son and the Holy Spirit, as it was in the beginning, is now, and shall be forever. Amen.
A Reading from Isaiah at the 40th Chapter 
Because He Is Great in Strength, Not One Is Missing 
Reader A Reading from Isaiah
Have you not known? Have you not heard? Has it not been told you from the beginning? Have you not understood from the foundations of the earth? It is he who sits above the circle of the earth, and its inhabitants are like grasshoppers; who stretches out the heavens like a curtain, and spreads them like a tent to live in; who brings princes to naught, and makes the rulers of the earth as nothing. Scarcely are they planted, scarcely sown, scarcely has their stem taken root in the earth, when he blows upon them, and they wither, and the tempest carries them off like stubble. To whom then will you compare me, or who is my equal? says the Holy One. Lift up your eyes on high and see: Who created these? He who brings out their host and numbers them, calling them all by name; because he is great in strength, mighty in power, not one is missing. 
Why do you say, O Jacob, and speak, O Israel, "My way is hidden from the Lord, and my right is disregarded by my God"? Have you not known? Have you not heard? The Lord is the everlasting God, the Creator of the ends of the earth. He does not faint or grow weary; his understanding is unsearchable. He gives power to the faint, and strengthens the powerless. Even youths will faint and be weary, and the young will fall exhausted; but those who wait for the Lord shall renew their strength, they shall mount up with wings like eagles, they shall run and not be weary, they shall walk and not faint. 
Reader The Word of the Lord.
People Thanks be to God.
Reader Psalm 147, proclaimed responsively  
       
Praise the Lord! How good it is to sing praises to our God; for he is gracious, and a song of praise is fitting.
The Lord builds up Jerusalem; he gathers the outcasts of Israel. 
He heals the brokenhearted, and binds up their wounds. 
He determines the number of the stars; he gives to all of them their names. 
Great is our Lord, and abundant in power; his understanding is beyond measure. 
The Lord lifts up the downtrodden; he casts the wicked to the ground. 
Sing to the Lord with thanksgiving; make melody to our God on the lyre. 
He covers the heavens with clouds, prepares rain for the earth, makes grass grow on the hills. 
He gives to the animals their food, and to the young ravens when they cry. 
His delight is not in the strength of the horse, nor his pleasure in the speed of a runner; 
But the Lord takes pleasure in those who fear him, in those who hope in his steadfast love. 
Praise the Lord! 
A Reading from the Gospel of Mark, at the 1st chapter
The Carpenter Is a Healer
Celebrant The holy gospel according to Mark
People Glory to you, O Lord.
As soon as they left the synagogue, they entered the house of Simon and Andrew, with James and John. Now Simon's mother-in-law was in bed with a fever, and they told him about her at once. He came and took her by the hand and lifted her up. Then the fever left her, and she began to serve them. 
That evening, at sundown, they brought to him all who were sick or possessed with demons. And the whole city was gathered around the door. And he cured many who were sick with various diseases, and cast out many demons; and he would not permit the demons to speak, because they knew him. In the morning, while it was still very dark, he got up and went out to a deserted place, and there he prayed. And Simon and his companions hunted for him. When they found him, they said to him, "Everyone is searching for you." He answered, "Let us go on to the neighboring towns, so that I may proclaim the message there also; for that is what I came out to do." And he went throughout Galilee, proclaiming the message in their synagogues and casting out demons. 
Celebrant The Gospel of the Lord.
People Praise to you, Lord Christ.
Meditation                                                                                                        Pastor Neil
Psalm 34 said responsively
I will bless the LORD at all times; 
God's praise shall continuously be in my mouth.
 My soul makes its boast in the LORD; 
let the humble hear and be glad. 
O magnify the LORD with me, and let us exalt God's name together. 
I sought the LORD, and God answered me, and delivered me from all my fears. 
Look to God, and be radiant; so, your face shall never be ashamed. 
This poor soul cried, and was heard by the LORD, and was saved from every trouble. 
The angel of the LORD encamps around those who fear God and delivers them. 
O taste and see that the LORD is good; happy are those who take refuge in him. 
On Behalf of The People of God
Let the people of God glorify the Lord,  praise him, and highly exalt him forever.
Glorify the Lord, O priests and servants of the Lord, praise him and highly exalt him forever. 
Glorify the Lord, O spirits and souls of the righteous, praise him and highly exalt him forever. 
You that are holy and humble of heart, glorify the Lord, praise him, and highly exalt him forever. 
Let us glorify the Lord: Father, Son, and Holy Spirit; praise him and highly exalt him forever. 
In the firmament of his power, glorify the Lord,  praise him, and highly exalt him forever. 
Glory to God    Gloria in excelsis 
Celebrant and People
Glory to God in the highest,
    and peace to his people on earth. 
Lord God, heavenly King,
almighty God and Father, 
 we worship you, we give you thanks,
    we praise you for your glory. 
Lord Jesus Christ, only Son of the Father,
Lord God, Lamb of God,
you take away the sin of the world:
    have mercy on us;
you are seated at the right hand of the Father:
    receive our prayer. 
For you alone are the Holy One,
you alone are the Lord,
you alone are the Most High,
    Jesus Christ,
    with the Holy Spirit,
    in the glory of God the Father. Amen.
The Apostles' Creed
I believe in God, the Father almighty,
    creator of heaven and earth;
I believe in Jesus Christ, his only Son, our Lord.
    He was conceived by the power of the Holy Spirit
        and born of the Virgin Mary.
    He suffered under Pontius Pilate,
        was crucified, died, and was buried.
    He descended to the dead.
    On the third day he rose again.
    He ascended into heaven, and is seated at the right hand of the Father.
    He will come again to judge the living and the dead. 

I believe in the Holy Spirit,
    the holy catholic Church,
    the communion of saints,
    the forgiveness of sins
    the resurrection of the body,
    and the life everlasting. Amen. 
The Lord's Prayer
Our Father, who art in heaven,
     hallowed be thy Name,
     thy kingdom come,
     thy will be done,
         on earth as it is in heaven.
Give us this day our daily bread.
And forgive us our trespasses,
     as we forgive those
         who trespass against us.
And lead us not into temptation,
     but deliver us from evil.
For thine is the kingdom,
     and the power, and the glory,
     for ever and ever. Amen.
Suffrages 
Celebrant       Show us your mercy, O Lord;
People       And grant us your salvation.
Celebrant       Clothe your ministers with righteousness;
People       Let your people sing with joy.
Celebrant      Give peace, O Lord, to all the world;
People       For only in you can we live in safety.
Celebrant    Lord, keep this nation and world under your care;
People       And guide us in the way of justice and truth.
Celebrant    Let your way be known upon earth;
People       Your saving health among all nations.
Celebrant    Let not the needy, O Lord, be forgotten;
People       Nor the hope of the poor be taken away.
Celebrant    Create in us clean hearts, O God;
People       And sustain us with your Holy Spirit. 
Collects
Celebrant Heavenly Father, in you we live and move and have our being: We humbly pray to you so to guide and govern us by your Holy Spirit, that in all the cares and occupations of our life we may not forget you and may remember that we are ever walking in your sight; through Jesus Christ our Lord. Amen.
Celebrant Almighty and everlasting God, by whose Spirit the whole body of your faithful people is governed and sanctified: Receive our supplications and prayers which we offer before you for all members of your holy Church, that in their vocation and ministry they may truly and devoutly serve you; through our Lord and Savior Jesus Christ. Amen.
Celebrant O ruler of earth and nations, guide our country under the leadership of a new president and vice-president, as well as many other offices of public service, that require wisdom and responsibility. Make all of us discerning of your will, and give the strength necessary to make our earthly kingdoms a reflection of your heavenly Kingdom of God. Lead us to the place we need to be, most particularly when we invariably go in the wrong direction and stumble in the dark. Amen.
Celebrant O God, you have made of one blood all the peoples of the earth, and sent your blessed Son to preach peace to those who are far off and to those who are near: Grant that people everywhere may seek after you and find you; bring the nations into your fold; pour out your Spirit upon all flesh; and hasten the coming of your kingdom; through Jesus Christ our Lord. Amen. 
The General Thanksgiving
Celebrant and People
Almighty God, Father of all mercies, we your unworthy servants give you humble thanks for all your goodness and loving-kindness to us and to all whom you have made. We bless you for our creation, preservation, and all the blessings of this life; but above all for your immeasurable love in the redemption of the world by our Lord Jesus Christ; for the means of grace, and for the hope of glory. And, we pray, give us such an awareness of your mercies, that with truly thankful hearts we may show forth your praise, not only with our lips, but in our lives, by giving up ourselves to your service, and by walking before you in holiness and righteousness all our days; through Jesus Christ our Lord, to whom, with you and the Holy Spirit, be honor and glory throughout all ages. Amen.
Celebrant Let us bless the Lord.
People Thanks be to God. 
The Blessing
Celebrant Sisters and brothers, we go out into the world in peace. We live and walk as part of God's beloved community. May God help us all to be of good courage, to hold on to what is good, and to return to no one an evil for an evil. Strengthen the faint-hearted, support the weak, aid the suffering, do justice and hope, honor all people, and let our gentleness be known by everyone. May God, who raised our Lord Jesus from death, lift us up and restore us to wholeness. And may God bless us all, ☩ in the name of the Father, the Son, and the Holy Spirit. Amen. 
Celebrant Go in peace to love and serve the Lord.
People Thanks be to God.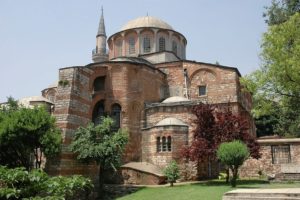 MORE ON THE PHOTO ON THIS BULLETIN'S COVER
The Kariye Mosque, or the Church of the Holy Savior in Chora, is a medieval Greek Orthodox church used as a mosque located in Istanbul, Turkey. The neighborhood is situated in the western part of the city. The Church of the Holy Savior was built in the style of Byzantine architecture. Most of what we see now was constructed in about 1100, erected on the foundations of an earlier church built as early as the fourth century. In the 16th century, during the Ottoman era, the Christian church was converted into a mosque; it became a museum in 1945, but was turned back into a mosque in 2020. The interior of the building is covered with some of the oldest and finest surviving Byzantine Christian mosaics and frescoes in the world. They were uncovered and restored after the building was secularized and turned into a museum. In fact, almost all of the interior surfaces are covered in mosaics and frescoes. Jesus, Mary, and the Holy Spirit appear countless times. But these mosaic artists from a thousand years ago also plumbed the bible for stories that aren't quite so famous. These stories, like Jesus' healing Peter's mother-in-law, on the cover of this week's bulletin, can easily be overlooked. These little vignettes in colored glass and gold are even more precious because of their rarity, even their obscurity. Yet, this little church building has been the site of pushing and shoving for hundreds of years. Built just outside the walls of the city. it found itself enfolded into the city when the walls were expanded. After the Muslim empire crossed the Middle East and stretched far into Europe, the church was turned into a mosque. Because images of human likeness were forbidden in Islam, all the original mosaics were covered with a skim coat of plaster in the 1400s. Everyone knew the mosaics were there because sometimes the plaster chipped away, revealing the treasure that lurked beneath. Sometimes the mosaic separated from its foundation, leaving a pile of iridescent colored glass on the pavement. In the mid-1900s, the church was converted into a museum. However, in the past few years, during the right-wing reign of the ruling current president, the museum was switched back into a mosque, with regular prayer services. The government won't say what the plans are for preserving and conserving the mosaics and architecture. There things stand. The mosaics rank among the must sublime in the world. They have been preserved for a very long time, with some hiccups along the way. They are ancient treasures that elevate humanity. Yet they are fragile and in danger, subject to political forces that should never have anything to do to a rare treasure such as this one. They have survived for centuries. We can pray they survive this present one.