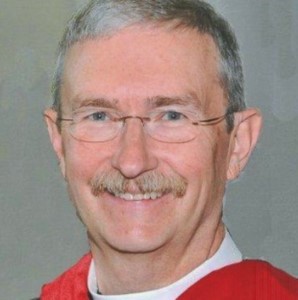 The Rev. Dr. Neil O'Farrell, Celebrant
You Are Setting Your Mind Not on Divine Things
But on Human Things
A Meditation
Peter experiences one of the most resounding pratfalls in all of scripture in today's gospel from Mark. One second, he is correctly identifying Jesus as the Messiah, and in the next short moment, Jesus is calling him Satan. Peter was never able to corral his tongue very effectively; instead, saying what he felt in his gut, or thought would be most appropriate at the moment. As I've explained, Peter is who we would be if we found ourselves in the middle of the gospels: capable of startingly wise insight, and then sinking into the waves when we realized we can't walk on water.
All the gospels toy with the same challenge. Who is Jesus? How did he get here? What was the heart of his teachings and miracles? How did he end up being crucified? And lastly and crucially, what then happened? In this passage from Mark, the questions are who Jesus is and how did he end up crucified. Peter gets the first question right and crashes and burns on the second question. Peter is sure that he knows what God's plans are and argues with Jesus on this point. Among the gospels' implicit boundaries is that one doesn't argue with Jesus. (Life teaches us the same point.)
By using as a starting point both the Hebrew scripture and the epistle, we know that the keyword of the lections is faith. Abraham had faith in God and in himself. He knew what he believed and how he was supposed to live. As Genesis continues past this passage, faith isn't simple. It's messy, even capricious. Just as we reflected last week on the story of Noah, God sometimes has second thoughts. God doesn't want us to get wrapped up in the details, and God commands that we go with the flow. We may not like this theological take on God, but it is a regular motif in the Bible. It requires that we hold onto God for dear life—faithfully.
That is what Jesus is trying to teach his disciples, particularly Peter. Jesus knows how his autobiography is unfolding, the plot points are excruciating, and the only way to maneuver it is by being faithful and holding onto God. No, it's not easy. Life isn't about the easy bits. Peter wanted life to be about the easy bits. Jesus was disabusing Peter of his cotton-candy notions. Toughening him for what was in store, just ahead. Satan promises us an easy way out, but we won't like the destination. God knows it won't be easy, but the ultimate destination is everlasting life.
Pastor Neil
Sign of the Cross
Celebrant    We gather together, as we live our lives, …
People        ☩ In the name of the Father, and of the Son, and the Holy Spirit. Amen.
Celebrant   Blessed be God.
 People         And blessed be his kingdom, now and forever. Amen.
Celebrant    Let us pray: God of the desert, as we follow Jesus into the unknown, may we recognize the Tempter when he comes. Let it be your bread we eat, your world we serve, and you alone we worship. This we ask through Jesus Christ, our Redeemer. Amen.
People         Amen.
Opening Dialogue
Celebrant    From the rising of the sun to its setting, my Name shall be great among the nations, and in every place incense shall be offered to my Name, and a pure offering: for my Name shall be great among the nations, says the Lord of hosts.   Amen.
Celebrant   Great and wonderful are your deeds, O Lord God the almighty.
People         Just and true are your ways, O Sovereign of the nations.
 Celebrant   Who shall not revere and praise your name, O Lord, for you alone are holy.
People         All nations shall come and worship in your presence for your just dealings have been revealed.
Celebrant    To the One who is seated on the throne, and to the Lamb,
People         Be blessing and honor, glory, and might, forever and ever. Amen.
Celebrant: Dear People of God: The first Christians observed with great devotion the days of our Lord's passion and resurrection, and it became the custom of the Church to prepare for them by a season of penitence and fasting. This season of Lent provided a time in which converts to the faith were prepared for Holy Baptism. It was also a time when those who, because of notorious sins, had been separated from the body of the faithful were reconciled by penitence and forgiveness, and restored to the fellowship of the Church. Thereby, the whole congregation was put in mind of the message of pardon and absolution set forth in the Gospel of our Savior, and of the need which all Christians continuously have to renew their repentance and faith.
Celebrant    Let us confess our sins against God and our neighbor.
Officiant and People together
Litany of Penitence
The Celebrant and People together:
Most holy and merciful Father:
We confess to you and to one another,
and to the whole communion of saints
in heaven and on earth,
that we have sinned by our own fault
in thought, word, and deed;
by what we have done, and by what we have left undone.
The Celebrant continues
We have not loved you with our whole heart, and mind, and strength. We have not loved our neighbors as ourselves. We have not forgiven others, as we have been forgiven.
Have mercy on us, Lord.
We have been deaf to your call to serve, as Christ served us. We have not been true to the mind of Christ. We have grieved your Holy Spirit.
Have mercy on us, Lord.
We confess to you, Lord, all our past unfaithfulness: the pride, hypocrisy, and impatience of our lives,
We confess to you, Lord.
Our self-indulgent appetites and ways, and our exploitation of other people,
We confess to you, Lord.
Our anger at our own frustrations, and our envy of those more fortunate than ourselves,
We confess to you, Lord.
Our intemperate love of worldly goods and comforts, and our dishonesty in daily life and work,
We confess to you, Lord.
Our negligence in prayer and worship, and our failure to commend the faith that is in us,
We confess to you, Lord.
Accept our repentance, Lord, for the wrongs we have done: for our blindness to human needs and suffering, and our indifference to injustice and cruelty,
Accept our repentance, Lord.
For all false judgments, for uncharitable thoughts toward our neighbors, and for our prejudice and contempt toward those who differ from us,
Accept our repentance, Lord.
For our waste and pollution of your creation, and our lack of concern for those who come after us,
Accept our repentance, Lord.
Restore us, good Lord, and let your anger depart from us;
Favorably hear us, for your mercy is great.
Accomplish in us the work of your salvation,
That we may show forth your glory in the world.
By the cross and passion of your Son our Lord,
Bring us with all your saints to the joy of his resurrection.
Celebrant:             Almighty God, the Father of our Lord Jesus Christ, who desires not the death of sinners, but rather that we may turn from our wickedness and live, has given power and commandment to his church to declare and pronounce to his people, being penitent, the absolution and remission of our sins. He pardons and absolves all those who truly repent, and with sincere hearts believe his holy Gospel.
Therefore, we beseech God to grant us true repentance and his Holy Spirit, that those things may please him which we do on this day, and that the rest of our life hereafter may be pure and holy, so that at the last we may come to his eternal joy; through Jesus Christ our Lord. Amen.
Collect of the Day
Celebrant           Let us Pray: O God, whose glory it is always to have mercy: Be gracious to all who have gone astray from your ways, and bring them again with penitent hearts and steadfast faith to embrace and hold fast the unchangeable truth of your Word, Jesus Christ your Son; who with you and the Holy Spirit lives and reigns, one God, forever and ever. Amen.
A Reading from Genesis at the 17th Chapter
God Gives a Homeland to Call Our Very Own
Reader        A Reading from Genesis
When Abram was ninety-nine years old, the Lord appeared to Abram, and said to him, "I am God Almighty; walk before me, and be blameless. And I will make my covenant between me and you, and will make you exceedingly numerous." Then Abram fell on his face, and God said to him,
"As for me, this is my covenant with you: You shall be the ancestor of a multitude of nations. No longer shall your name be Abram, but your name shall be Abraham; for I have made you the ancestor of a multitude of nations. I will make you exceedingly fruitful; I will make nations of you, and kings shall come from you.
I will establish my covenant between me and you, and your offspring after you throughout their generations, for an everlasting covenant, to be God to you and to your offspring after you. And I will give to you, and to your offspring after you, the land where you are now an alien, all the land of Canaan, for a perpetual holding; and I will be their God."
God said to Abraham, "As for Sarai your wife, you shall not call her Sarai, but Sarah shall be her name. I will bless her, and moreover, I will give you a son by her. I will bless her, and she shall give rise to nations; kings of peoples shall come from her."
Reader        The Word of the Lord.
People         Thanks be to God.
Reader        From Psalm 23, proclaimed responsively
You who fear the Lord, praise him! All you offspring of Jacob, glorify him; stand in awe of him, all you offspring of Israel!
For he did not despise or abhor the affliction of the afflicted; he did not hide his face from me, but heard when I cried to him.
From you comes my praise in the great congregation; my vows I will pay before those who fear him.
The poor shall eat and be satisfied; those who seek him shall praise the Lord. May your hearts live forever!
All the ends of the earth shall remember and turn to the Lord, and all the families of the nations shall worship before him.
For dominion belongs to the Lord, and he rules over the nations.
 To him, indeed, shall all who sleep in the earth bow down;
before him shall bow all who go down to the dust, and I shall live for him.
 Posterity will serve him; future generations will be told about the Lord,
and proclaim his deliverance to a people yet unborn, saying that he has done it.
Epistle: from Romans at the 4th Chapter
Hoping against hope, Abraham believed
Reader        A Reading from Romans
For the promise that he would inherit the world did not come to Abraham or to his descendants through the law but through the righteousness of faith. If it is the adherents of the law who are to be the heirs, faith is null and the promise is void. For the law brings wrath; but where there is no law, neither is their violation. For this reason, it depends on faith, in order that the promise may rest on grace and be guaranteed to all his descendants, not only to the adherents of the law but also to those who share the faith of Abraham (for he is the father of all of us, as it is written, "I have made you the father of many nations")—in the presence of the God in whom he believed, who gives life to the dead and calls into existence the things that do not exist.
Hoping against hope, Abraham believed that he would become "the father of many nations," according to what was said, "So numerous shall your descendants be." He did not weaken in faith when he considered his own body, which was already as good as dead (for he was about a hundred years old), or when he considered the barrenness of Sarah's womb. No distrust made him waver concerning the promise of God, but he grew strong in his faith as he gave glory to God, being fully convinced that God was able to do what he had promised. Therefore, his faith "was reckoned to him as righteousness."
Now the words, "it was reckoned to him," were written not for his sake alone, but for ours also. It will be reckoned to us who believe in him who raised Jesus our Lord from the dead, who was handed over to death for our trespasses and was raised for our justification.
Reader        The Word of the Lord.
People         Thanks be to God.
A Reading from the Gospel of Mark, at the 8th chapter
The Time Is Fulfilled
 Celebrant    The holy gospel according to Mark
People         Glory to you, O Lord.
Jesus went on with his disciples to the villages of Caesarea Philippi; and on the way, he asked his disciples, "Who do people say that I am?" And they answered him, "John the Baptist; and others, Elijah; and still others, one of the prophets." He asked them, "But who do you say that I am?" Peter answered him, "You are the Messiah." And he sternly ordered them not to tell anyone about him.
Then he began to teach them that the Son of Man must undergo great suffering, and be rejected by the elders, the chief priests, and the scribes, and be killed, and after three days rise again. He said all this quite openly. And Peter took him aside and began to rebuke him. But turning and looking at his disciples, he rebuked Peter and said, "Get behind me, Satan! For you are setting your mind not on divine things but on human things."
He called the crowd with his disciples, and said to them, "If any want to become my followers, let them deny themselves and take up their cross and follow me. For those who want to save their life will lose it, and those who lose their life for my sake, and for the sake of the gospel, will save it. For what will it profit them to gain the whole world and forfeit their life? Indeed, what can they give in return for their life? Those who are ashamed of me and of my words in this adulterous and sinful generation, of them the Son of Man will also be ashamed when he comes in the glory of his Father with the holy angels."
Celebrant    The Gospel of the Lord.
People         Praise to you, Lord Christ.
Meditation                                                                       Pastor Neil
At the end of the sermon:
Celebrant: Let us bless the Lord.
People: Thanks be to God.
Psalm 34 said responsively
I will bless the LORD at all times;
God's praise shall continually be in my mouth.
 My soul makes its boast in the LORD;
          let the humble hear and be glad.
O magnify the LORD with me, and let us exalt God's name together.
I sought the LORD, and God answered me, and delivered me from all my fears.
Look to God, and be radiant; so, your face shall never be ashamed.
This poor soul cried, and was heard by the LORD, and was saved from every trouble.
The angel of the LORD encamps around those who fear God and delivers them.
O taste and see that the LORD is good; happy are those who take refuge in him.
On Behalf of The People of God
Let the people of God glorify the Lord,  praise him, and highly exalt him forever.
Glorify the Lord, O priests and servants of the Lord, praise him and highly exalt him forever.
Glorify the Lord, O spirits and souls of the righteous, praise him and highly exalt him forever.
You that are holy and humble of heart, glorify the Lord, praise him, and highly exalt him forever.
Let us glorify the Lord: Father, Son, and Holy Spirit; praise him and highly exalt him forever.
In the firmament of his power, glorify the Lord,  praise him, and highly exalt him forever.
Suffrages
Celebrant: Grant, most merciful Lord, to your faithful people pardon and peace, that we may be cleansed from all our sins, and serve you with a quiet mind; through Christ our Lord. Amen.
Celebrant: Grant, Almighty God, that we, your people, may recognize their weakness and put their whole trust in your strength, so that they may rejoice forever in the protection of your loving providence; through Christ our Lord. Amen.
Celebrant: Keep us, your family, Lord, with your never-failing mercy, that relying solely on the help of your heavenly grace, we may be upheld by your divine protection; through Christ our Lord. Amen.
Celebrant: Look mercifully on your family, Almighty God, that by your great goodness we may be governed and preserved evermore; through Christ our Lord. Amen.
Celebrant: Look down in mercy, Lord, on your people who look to you; and grant that those whom you have nourished by your Word and Sacraments may bring forth fruit worthy of repentance. Amen.
The Apostles' Creed
I believe in God, the Father almighty,
creator of heaven and earth;
I believe in Jesus Christ, his only Son, our Lord.
He was conceived by the power of the Holy Spirit
and born of the Virgin Mary.
He suffered under Pontius Pilate,
was crucified, died, and was buried.
He descended to the dead.
On the third day he rose again.
He ascended into heaven and is seated   
at the right hand of the Father.
He will come again to judge the living and the dead.
I believe in the Holy Spirit,
the holy catholic Church,
the communion of saints,
the forgiveness of sins
the resurrection of the body,
and the life everlasting. Amen.
The Lord's Prayer
Our Father, who art in heaven,
hallowed be thy Name,
thy kingdom come,
thy will be done,
on earth as it is in heaven.
Give us this day our daily bread.
And forgive us our trespasses,
as we forgive those
who trespass against us.
And lead us not into temptation,
but deliver us from evil.
For thine is the kingdom,
and the power, and the glory,
for ever and ever. Amen.
Celebrant       Show us your mercy, O Lord;
People              And grant us your salvation.
Celebrant       Clothe your ministers with righteousness;
People              Let your people sing with joy.
Celebrant      Give peace, O Lord, to all the world;
People             For only in you can we live in safety.
Celebrant      Lord, keep this nation and world under your care;
People             And guide us in the way of justice and truth.
Celebrant      Let your way be known upon earth;
People             Your saving health among all nations.
Celebrant      Let not the needy, O Lord, be forgotten;
People             Nor the hope of the poor be taken away.
Celebrant      Create in us clean hearts, O God;
People             And sustain us with your Holy Spirit.
Celebrant              Almighty and everlasting God, by whose Spirit the whole body of your faithful people is governed and sanctified: Receive our supplications and prayers which we offer before you for all members of your holy Church, that in our vocations and ministries, we may truly and devoutly serve you; through our Lord and Savior Jesus Christ. Amen.
Celebrant             O ruler of earth and nations guide our country under the leadership of a new president and vice-president, as well as many other offices of public service, that require wisdom and responsibility. Make all of us discerning of your will and give the strength necessary to make our earthly kingdoms a reflection of your heavenly Kingdom of God. Lead us to the place we need to be, most particularly when we invariably go in the wrong direction and stumble in the dark. Amen.
Celebrant              O God, you have made of one blood all the peoples of the earth and sent your blessed Son to preach peace to those who are far off and to those who are near: Grant that people everywhere may seek after you and find you; bring the nations into your fold; pour out your Spirit upon all flesh; and hasten the coming of your kingdom; through Jesus Christ our Lord. Amen.
The General Thanksgiving
Celebrant and People
Almighty God, Father of all mercies, we your unworthy servants give you humble thanks for all your goodness and loving-kindness to us and to all whom you have made. We bless you for our creation, preservation, and all the blessings of this life; but above all for your immeasurable love in the redemption of the world by our Lord Jesus Christ; for the means of grace, and for the hope of glory. And, we pray, give us such an awareness of your mercies, that with truly thankful hearts we may show forth your praise, not only with our lips, but in our lives, by giving up ourselves to your service, and by walking before you in holiness and righteousness all our days; through Jesus Christ our Lord, to whom, with you and the Holy Spirit, be honor and glory throughout all ages. Amen.
Celebrant    Let us bless the Lord.
People        Thanks be to God.
The Blessing
Celebrant             Sisters and brothers, we go out into the world in peace. We live and walk as part of God's beloved community. May God help us all to be of good courage, to hold on to what is good, and to return to no one an evil for an evil. Strengthen the faint-hearted, support the weak, aid the suffering, do justice and hope, honor all people, and let our gentleness be known by everyone. May God, who raised our Lord Jesus from death, lift us up and restore us to wholeness. And may God bless us all, ☩ in the name of the Father, the Son, and the Holy Spirit. Amen.
Celebrant    Go in peace to love and serve the Lord.
People         Thanks be to God.
MORE ON THE ARTWORK ON THIS BULLETIN'S COVER Mosaics have been a recurring feature of our bulletin art. Mosaics were an ancient artistic expression, figurative and reflective of nature and narrative. Mosaics are also a complementary feature of grand architecture. The extant examples of ancient and Middle Ages Christian art are a splendid heritage that generations have enjoyed and been moved by. How were these mammoth tableaux created? They are not merely beautiful illustrations but also engineering marvels. Roman and eastern Mediterranean buildings of giant public spaces were often based on an arch, and its 360-degree sibling the dome. In an earthquake-prone landscape, a strong building was crucial for survival. An arch is an inherently more stable building component than a square or box. For that reason, buildings with arches, barrel vaults, and domes have survived the centuries as if time didn't count. Mosaics are made out of tens of thousands of small bits of colored glass, fitted together into a picture. These bits are called tessera. A tessera is usually formed in the shape of a small cube. Tesserae were made both from colored glass, or clear glass backed with metal foils. The Byzantines prodigiously used tesserae with gold leaf with two glass pieces sandwiching the gold, baked together under pressure. This produced a golden reflection emanating from in between the tesserae as well as a wavery front, causing a far richer and more luminous effect than a plain gold leaf would create. Colored classic mosaic material is opaque glass fired in large slabs in a kiln and then hand cut with a hammer and hardy chisel into small cubes. Their irregular finish makes them wonderful reflectors of shimmery light. A mosaic starts with a drawing at the same scale as the finished work. It's called a cartoon. The cartoon's image is traced onto the surface that will undergird this mosaic with chalk or coal. A cement coats the surface and artisans begin laying the tesserae until a luminous picture appears. The Byzantine ideal is that every available surface, particularly high up, be covered in mosaic. In parts of the western Mediterranean mosaic did not go out of fashion in the Middle Ages. Painting just didn't catch on. For example, the whole interior of the St Mark's Basilica in Venice is clad with elaborate, golden mosaics. The oldest scenes were executed by Greek masters in the late 11th century, but the majority of the mosaics are works of local artists from the 12th–13th centuries. The decoration of the church was finished only in the 16th century. These mosaics adorn almost countless domes comprising the ceilings of the basilica. The Creation story in the south cupola of the west narthex is followed on the walls and the adjacent vaults by additional scenes from Genesis. The picture on this bulletin depicts Abraham coming into Canaan, the land that God promised Abraham for his descendants down through time immemorial. This is the land the Jewish nation could call home.