You are Witnesses of These Things
 April 25, 2021
Holy Communion
A Meditation
I love the Bible and its stories. My soul is touched through scripture, particularly Jesus' teachings which I can apply to all sorts of situations (i.e., even gardening); and his miracle cures lifting up the lowly. However, I'm not particularly sentimental about it. It's not just about the emotions. I understand the Bible as a purposeful document. It's trying to convince us. Over the centuries, sentimentality was scrubbed away to reveal the hard kernel of truth, though the stories can be lovely and loving.
When we're young, we are taught the softer rather than the sharper side of the Bible. We encounter this warm, comforting version of the Bible through church basement and Sunday school classroom art. (And that also is a true but skewed depiction.) In pictures, Jesus emanates light, is dressed like an Italian Renaissance prince, and the sheep look like they've been blown-dried and combed-out. The 23rd psalm is gauzy and soft. However, do not miss that God insists we sit down with our enemies, with not a word of repentance and judgment; and do our best to work things out with our miscreant tablemates.
Other shepherds in scripture include Joseph (who endured slavery, slyly inveigled himself into Pharaoh's graces, and managed a seven year-long draught); Moses, who led the people into the promised land, and had a hair-trigger when it came to anger; and David, who killed and beheaded Goliath, and who defeated King Saul in battle and made Israel into a powerhouse country. These were leaders the were decisive, bold, and if necessary killers. Shepherds do not demonstrate the softer side of God.
All of us can treasure our gentle and tender impressions of Jesus the Good Shepherd. However, we mustn't let go of another truer, core of who the Son of God really was. He was, first, here on earth to teach us we are God's children, too.
                                                                                                                                                                                                                  Pastor Neil
OPENING ACCLAMATION
 Celebrant    Alleluia! Christ is risen.
People        The Lord has risen indeed. Alleluia!
Beloved God, as we approach your Presence, guide and stir us
with your Holy Spirit, that we may become one body, one spirit
in Jesus Christ our Savior. Chiefly are we bound to praise you for the glorious resurrection of your Son Jesus Christ our Lord; for he is the
true Paschal Lamb, who was sacrificed for us, and has taken away the sin of the world. By his death he has destroyed death, and by his rising to life again he has won for us everlasting life. Amen.
SONG OF PRAISE (The Gloria)
Glory to God in the highest, and peace to his people on earth.
Lord God, heavenly King, almighty God and Father, we worship you, we give you thanks,  we praise you for your glory.
Lord Jesus Christ, only Son of the Father, Lord God, Lamb of God, you take away the sin of the world: have mercy on us; you are seated at the right hand of the Father: receive our prayer.
For you alone are the Holy One, you alone are the Lord, you alone are the Most High, Jesus Christ, with the Holy Spirit, in the glory of God the Father. Amen.
THE COLLECT OF THE DAY
 Celebrant             The Lord be with you.
People                  And also with you.
Celebrant             O God, whose blessed Son made himself known to his disciples in the breaking of bread: Open the eyes of our faith, that we may behold him in all his redeeming work; who lives and reigns with you, in the unity of the Holy Spirit, one God, now and forever. Amen.
THE LITURGY OF THE WORD
A Reading from Acts at the 4th Chapter
By what name did you do this?
Reader        A Reading from Acts
The next day the Jewish rulers, elders, and scribes assembled in Jerusalem, with Annas the high priest, Caiaphas, John, and Alexander, and all who were of the high-priestly family. When they had made the prisoners stand in their midst, they inquired, 'By what power or by what name did you do this?' Then Peter, filled with the Holy Spirit, said to them, 'Rulers of the people and elders, if we are questioned today because of a good deed done to someone who was sick and are asked how this man has been healed, let it be known to all of you, and to all the people of Israel, that this man is standing before you in good health by the name of Jesus Christ of Nazareth, whom you crucified, whom God raised from the dead. 11This Jesus is
"the stone that was rejected by you, the builders; it has become the cornerstone." There is salvation in no one else, for there is no other name under heaven given among mortals by which we must be saved.'
Reader        The Word of the Lord.
People         Thanks be to God.
Reader        Twenty-third Psalm, said together
The LORD is my shepherd; I shall not want.
 He maketh me to lie down in green pastures: he leadeth me beside the still waters.
 He restoreth my soul: he leadeth me in the paths of righteousness for his name's sake.
 Yea, though I walk through the valley of the shadow of death, I will fear no evil: for thou art with me; thy rod and thy staff they comfort me.
 Thou preparest a table before me in the presence of mine enemies: thou anointest my head with oil; my cup runneth over.
  Surely goodness and mercy shall follow me all the days of my life: and I will dwell in the house of the LORD forever.
The Epistle from First John, at the 3rd Chapter
Let us love in truth and action
Reader        A Reading from First John
We know love by this, that he laid down his life for us—and we ought to lay down our lives for one another. How does God's love abide in anyone who has the world's goods and sees a brother or sister in need and yet refuses help? Little children, let us love, not in word or speech, but in truth and action. And by this we will know that we are from the truth and will reassure our hearts before him whenever our hearts condemn us; for God is greater than our hearts, and he knows everything. Beloved, if our hearts do not condemn us, we have boldness before God; and we receive from him whatever we ask, because we obey his commandments and do what pleases him.
And this is his commandment, that we should believe in the name of his Son Jesus Christ and love one another, just as he has commanded us. All who obey his commandments abide in him, and he abides in them. And by this we know that he abides in us, by the Spirit that he has given us.
Reader        The Word of the Lord.
People         Thanks be to God.
 The Gospel of John, at the 10th Chapter
There will be one flock, one shepherd
Celebrant    The holy gospel according to John
People         Glory to you, O Lord.
"I am the good shepherd. The good shepherd lays down his life for the sheep. The hired hand, who is not the shepherd and does not own the sheep, sees the wolf coming and leaves the sheep and runs away—and the wolf snatches them and scatters them. The hired hand runs away because a hired hand does not care for the sheep. I am the good shepherd. I know my own and my own know me, just as the Father knows me and I know the Father. And I lay down my life for the sheep. I have other sheep that do not belong to this fold. I must bring them also, and they will listen to my voice. So, there will be one flock, one shepherd. For this reason, the Father loves me, because I lay down my life in order to take it up again. No one takes it from me, but I lay it down of my own accord. I have power to lay it down, and I have power to take it up again. I have received this command from my Father."
 Celebrant    The Gospel of the Lord.
People        Thanks be to God.
Sermon                                                            Pastor Neil
Response to the sermon:
Celebrant: Let us bless the Lord.
People: Thanks be to God.
THE NICENE CREED
We believe in one God, the Father, the Almighty, maker of heaven and earth, of all that is, seen and unseen.
 We believe in one Lord, Jesus Christ, the only Son of God, eternally begotten of the Father, God from God, Light from Light, true God from true God, begotten not made, of one Being with the Father. Through him all things were made. For us and for our salvation he came down from heaven: by the power of the Holy Spirit he became incarnate from the Virgin Mary and was made man. For our sake he was crucified under Pontius Pilate; he suffered death and was buried. On the third day he rose again in accordance with the Scriptures; he ascended into heaven and is seated at the right hand of the Father. He will come again in glory to judge the living and the dead, and his kingdom will have no end.
 We believe in the Holy Spirit, the Lord, the giver of life, who proceeds from the Father and the Son. With the Father and the Son, he is worshiped and glorified. He has spoken through the Prophets. We believe in one holy catholic and apostolic Church.  We acknowledge one baptism for the forgiveness of sins. We look for the resurrection of the dead, and the life of the world to come.  Amen.
Prayers of the People    
 Reader        In peace, we pray to you, Lord God—
Grant, Almighty God, that all who confess your name may be united in your truth, live together in your love, and reveal your glory in the world. Lord, in your mercy, Hear our prayer.
Guide the people of this land, and of all nations, in the ways of justice and peace; that we may honor one another and serve the common good. Heal the rifts that bind, vex, and scare us. Lord, in your mercy, Hear our prayer.
Give us all a reverence for the earth as your own creation, that we may use its resources rightly in the service of others and to your honor and glory. Heal the wounds of those who have been victimized by climate change and destruction. Lord, in your mercy, Hear our prayer.
Bless all whose lives are closely linked with ours, and grant that we may serve Christ in them, and love one another as he loves us. Lord, in your mercy, Hear our prayer.
Comfort and heal all those who suffer in body, mind, or spirit; give us purpose and hope in troubles, and bring us the joy of your salvation. Bestow courage upon those who look out at the world, and who wonder if there is a safe and gracious place for them. Lord, in your mercy, Hear our prayer.
We commend to your mercy all who have died, that your will for them may be fulfilled; and, we pray that we may share with all your saints in your eternal kingdom. Lord, in your mercy, Hear our prayer.
Silence to lift up our own prayers to God
Celebrant             Almighty God, by your Holy Spirit you have made us one with your saints in heaven and on earth: Grant that in our earthly pilgrimage, we may always be supported by this community of fellowship of love and prayer. We ask this for the sake of Jesus Christ, in whom all our intercessions are acceptable through the Spirit, and who lives and reigns for ever and ever. Amen.
A Confession of Our Sins to God
People         God of all mercy, we confess that we have sinned against you, opposing your will in our lives. We have denied your goodness in each other, in ourselves, and in the world you have created. We repent of the evil that enslaves us, the evil we have done, and the evil done on our behalf. Forgive, restore, and strengthen us through our Savior Jesus Christ, that we may abide in your love and serve only your will. Amen.
Celebrant    Almighty God have mercy on us ☩, forgive us all our sins, and through the grace of Jesus Christ, strengthen us in all goodness, and by the power of the Holy Spirit keep us in eternal life. Amen.
The Great Thanksgiving
Celebrant            The Lord be with you.
People                  And also with you.
Celebrant             Lift up your hearts.
People                   We lift them to the Lord.
Celebrant             Let us give thanks to the Lord our God.
People                   It is right to give our thanks and praise.
God of all power, Ruler of the Universe, you are worthy of glory and praise. Glory to you for ever and ever.
At your command all things came to be: the vast expanse of interstellar space, galaxies, suns, the planets in their courses, and this fragile earth, our island home. By your will they were created and have their being.
From the primal elements you brought forth the human race, and blessed us with memory, reason, and skill. You made us the rulers of creation. But we turned against you, and betrayed your trust; and we turned against one another. Have mercy, Lord, for we are sinners in your sight.
Again and again, you called us to return to your fold. Through prophets and sages you revealed your righteous Law. And in the fullness of time you sent your only Son, born of a woman, to fulfill your Law, to open for us the way of freedom and peace. By his blood, he reconciled us. By his wounds, we are healed.
And therefore we praise you, joining with the heavenly chorus, with prophets, apostles, and martyrs, and with all those in every generation who have looked to you in hope—to proclaim with them your glory, in their unending hymn:
Celebrant and People Holy, Holy, Holy Lord, God of power and might, heaven and earth are full of your glory. Hosanna in the highest. Blessed is he who comes in the name of the Lord. Hosanna in the highest.
Celebrant   And so, Father, we who have been redeemed by him, and
made a new people by water and the Spirit, now bring before you these gifts. Sanctify them by your Holy Spirit to be the Body and Blood of Jesus Christ our Lord.
On the night he was betrayed he took bread, said the blessing ☩, broke the bread, and gave it to his friends, and said, "Take, eat: This is my Body, which is given for you. Do this for the remembrance of me."
After supper, he took the cup of wine, gave thanks ☩, and said, "Drink this, all of you: This is my Blood of the new Covenant, which is shed for you and for many for the forgiveness of sins. Whenever you drink it, do this for the remembrance of me."
Remembering now his work of redemption, and offering to you this
sacrifice of thanksgiving, (said together) We celebrate his death and resurrection, as we await the day of his coming.
Lord God of our Ancestors: God of Abraham, Sarah, and Hagar; Isaac and Rebekah; and Jacob, Leah, and Rachel. God and Father of our Lord Jesus Christ, born to Mary, his mother, and watched over by Joseph, with a father's care: Open our eyes to see your hand at work in the world about us. Deliver us from the presumption of coming to this table for solace only, and not for strength; for pardon only, and not for renewal. Let the grace of this Holy Communion make us one body, one spirit in Christ, that we may worthily serve the world in his name.
(said together) Risen Lord, be known to us in the breaking of the Bread.
Send now, we pray, your Holy Spirit, upon your redeemed and holy people, ☩ and upon these your gifts of bread and wine, that we may bear fruit worthy of repentance. Bless us to abound in hope, be filled with all joy and peace in believing, and receive our inheritance with all your saints in light.
People        Through Christ and with Christ and in Christ, in the unity of the Holy Spirit, to you be honor, glory, and praise, for ever and ever. Amen.
And now, as our Savior Christ has taught us, we are bold to pray:
The Lord's Prayer
People         Our Father, who art in heaven, hallowed be thy Name, thy kingdom come, thy will be done, on earth as it is in heaven. Give us this day our daily bread. And forgive us our trespasses as we forgive those who trespass against us. And lead us not into temptation, but deliver us from evil. For thine is the kingdom, and the power, and the glory for ever and ever. Amen.
A Call to Communion
Celebrant   The gifts of God for the people of God. Take them in remembrance that Christ died for you, and feed on him in your hearts by faith, with thanksgiving.
The General Thanksgiving
Celebrant and People
Almighty God, Father of all mercies, we your unworthy servants give you humble thanks for all your goodness and loving-kindness to us and to all whom you have made. We bless you for our creation, preservation, and all the blessings of this life; but above all for your immeasurable love in the redemption of the world by our Lord Jesus Christ; for the means of grace, and for the hope of glory. And, we pray, give us such an awareness of your mercies, that with truly thankful hearts we may show forth your praise, not only with our lips, but in our lives, by giving up ourselves to your service, and by walking before you in holiness and righteousness all our days; through Jesus Christ our Lord, to whom, with you and the Holy Spirit, be honor and glory throughout all ages. Amen.
Celebrant    Let us bless the Lord.
People        Thanks be to God.
The Blessing
Celebrant             Sisters and brothers, we go out into the world in peace. We live and walk as part of God's beloved community. May God help us all to be of good courage, to hold on to what is good, and to return to no one an evil for an evil. Strengthen the faint-hearted, support the weak, aid the suffering, do justice and hope, honor all people, and let our gentleness be known by everyone. May God, who raised our Lord Jesus from death, lift us up and restore us to wholeness. And may God bless us all, ☩ in the name of the Father, the Son, and the Holy Spirit. Amen.
Celebrant    Go in peace to love and serve the Lord. Alleluia, Alleluia.
People         Thanks be to God. Alleluia, Alleluia.
Church of the Good Shepherd Lake Tekapo, South Island New Zealand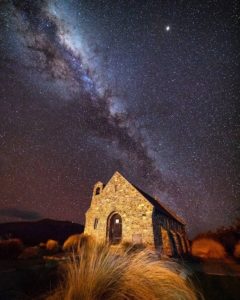 More about the artwork on the front of this bulletin
The Church of the Good Shepherd on the shores of Lake Tekapo on the South Island of New Zealand is a small Anglican church used by various denominations. Built in 1935 as a memorial church to commemorate early settlers, it is one of the most photographed sites in the country.
The original idea of building the church was taken up by various local runholders who thought that it would be an appropriate way of acknowledging and commemorating their pioneering ancestors. The land for the building was given by the owners of Braemar Station, which is (mostly) located on the eastern shore of Lake Tekapo. A generous amount of land belongs to the church so that the building will continue to be sited on its own. Esther Hope, a local artist from Grampians Station, provided sketch designs for the proposed church. The Christchurch architect Richard Strachan De Renzy Harman (1896–1953) based his 1933/1934 design on Hope's drawings.
The foundation stone for the church was laid by Prince Henry, Duke of Gloucester, on 16 January 1935, in the presence of the bishop of Christchurch, Campbell West-Watson, and vicar Davies. The building committee had decided that the church should blend into the environment. The grounds surrounding the church were deliberately left with their native vegetation. The church was clad in local stone and lichen was left on the stone to give it a natural look. The structure itself was made from concrete, with the stones as cladding.
The bell was cast in Christchurch by W. H. Price and Son Ltd. The dedication ceremony was held on 3 August 1935 by the Bishop of Christchurch. As of 2018, the local vicar estimates that 600,000 people visit the church per year.